Digital Playgroundz Integrates Virtual Games into Real Environments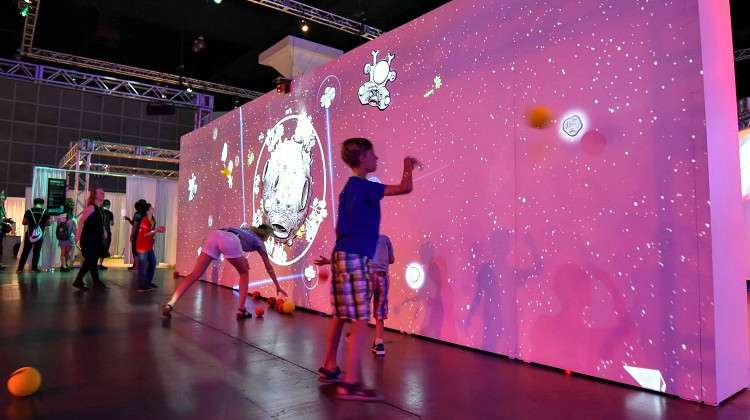 images: INITI, TIM HENDRICKSON
Digital Playgroundz is an interactive playground designed to integrate virtual reality games into real environments.
Digital Playgroundz, a digital playground developed by Initi, combines projection mapping and large-scale motion detection to introduce interactive experiences to real environments. The platform is designed to encourage playful interactions and bring people together to socialize using game-like stories and virtual characters. The technology can transform any flat surface into a multi-touch area to turn it into a gaming stage of an unlimited size and engage an unlimited number of users in interactive games simultaneously.
The system consists of a custom-built PC, high-end motion detection units, projectors and proprietary software. The virtual playground can be projected on multiple walls using one or more projection units. It works best in dimmed light, in spaces with real objects on the wall, which the game can use to create virtual objects. Two games are currently available for the installation, with more in development.
Digital Playgroundz is available as a rental package for temporary installations, all-in-one package for long-term setups, and in other arrangements, depending on the customer's needs. A minimal package, which comes only with the media server and software, is also available for customers who wish to use their own projectors and sound systems.
Initi is an artistic collective dedicated to developing interactive new media installations, as well as to researching and creating complex audiovisual projects for both indoor and outdoor spaces. Based in Prague, the Czech Republic, the group brings together visual artists, technicians and musicians to design interactive, site-specific projects that combine visual projection with sound to transform real environments into virtual spaces. The team takes into account the history and architectural design of each location and uses it for inspiration when creating audiovisual content.
Some of the options available with Digital Playgroundz can be seen in the video below. Designed primarily for kids, the test installation in Prague uses a virtual reality game which is integrated into a real environment. The game, Demonz, is similar to the classic game of dodgeball, but players are challenged to throw small balls at virtual targets instead of real opponents. The targets take the shape of animated figures and other moving objects and the game is uniquely designed to encourage players to move and cooperate with others.
Daniel Gregor from Initi stressed the main idea behind their project: "We put controllers back in their box and let all the kids play, no one is excluded!"