DigiWall Installed in Manor House Wildlife Park
BY: FG Team
17 February 2013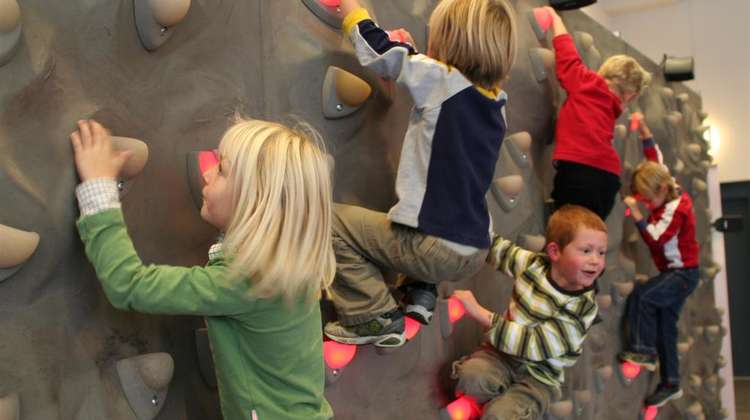 images: INNOVATIVE LEISURE
DigiWall, an interactive climbing wall originally designed by the Interactive Institute's research studio Sonic in Sweden and further developed by Digital Technology AB, has been installed in Manor House Wildlife Park in South Wales.
The DigiWall interactive wall has recently become one of the many attractions at the Manor House Wildlife Park, located near Tenby in Pembrokeshire in South Wales. The popular interactive climbing wall has been installed in a number of locations so far, including a family entertainment centre, an aquarium, and a farm park, but this is the first time that it has made its way to a zoo. The DigiWall will offer visitors a fun interactive distraction and allow them to take a break from seeing some of the many park residents, which include monkeys, rhinos, meerkats, macaws, and other exotic species. The park is owned by Colin McDougall and his wife, TV presenter Anna Ryder Richardson. They decided to add the DigiWall to the park's attractions after McDougall had spotted it at the 2012 EAG International show.
Conceptually, the DigiWall is a fusion of a computer game and a climbing wall. It requires players to use their whole body to play any of the six interactive multi-sensory games available with the system. The wall responds to the players' movements and actions, and turns the exercise into an entertaining, effortless experience.
Designed for use in a wide spectrum of attractions and other public settings, from theme parks and family entertainment facilities to science centres, the DigiWall combines a traversing wall with touch sensitive technology to offer users an entirely new experience, to encourage them to be creative, to become immersed in the game, and to engage their physical, mental, and social skills. At the same time, the physical aspects of the game help users improve their fitness, coordination, and agility. The games are open-ended, versatile, and suitable to a wide age range. They have three difficulty levels, which means that they also cater to a wide spectrum of skill levels.
The games available with the DigiWall can be played by a single player, two players, or a team. The system requires some supervision, but not a dedicated operator, which makes it inexpensive to maintain. It is under 3 metres in height and comes in two sizes, either 4.5 or 6.5 metres wide. The climbing wall does not take up too much space as it is normally mounted against an existing wall, with crash mats covering an area of 2.5 metres from the climbing surface. Free-standing and custom-made units can also be built, but the wall is typically set up against an internal wall or in a corner.
A standard unit consists of six climbing wall modules which are made of plastic concrete reinforced with glassfibre, and a selector panel, which is used to select games, levels and languages. A Macintosh computer is also included, along with a high-end surround system. The interactive wall itself is fitted with climbing grips that have sensors and light diodes. The computer communicates with the grips to create an immersive experience for the user, and the wall's software is easy to upgrade and to add new games. The software runs on a standard computer. Each DigiWall installation is followed by a staff training session to ensure that the system is used safely.