Euro Attractions Show 2014: Report
BY: FG Team
6 October 2014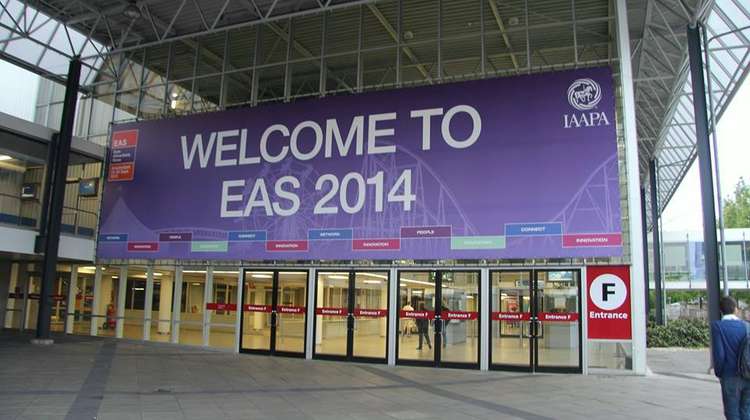 images: IAAPAEUROPE, FACEBOOK
The 2014 Euro Attractions Show (EAS) was held in Amsterdam in the Netherlands from September 23 to 25.
The 2014 Euro Attractions Show, Europe's largest trade show and conference for the attractions industry, was held at the Amsterdam RAI Exhibition and Convention Centre in the Dutch capital. EAS 2014 broke all attendance records and was the most successful edition of EAS to date, with the highest number of exhibitors and the largest amount of exhibit space in the event's 11-year history. The show welcomed about 10,750 visitors from over 100 countries, or 26 percent more than EAS 2013, held in Paris. The 2014 event hosted a total of 7,300 qualified buyers, which was also a significant increase over 2013.
EAS 2014 featured a record 441 exhibitors from 36 countries. The companies showcased their latest games, 3-D movies, 4-D theatres, ticket and access systems, roller coasters, water rides, and a wide variety of other attractions presented across more than 100 product categories. The use of different technologies in a single attraction was one of the notable trends at the show, with a number of exhibitors presenting innovative uses and combinations of different tech solutions in a single product.
An educational conference ran parallel to EAS 2014 and offered over 20 hours of seminars to more than 1,800 attendees. The conference sessions covered a variety of topics, from haunted attractions and innovative technologies to social media and mobile management.
EAS 2014 also hosted a forum for water park operators, a symposium for indoor playground and family entertainment centres, and a Young Professionals Forum, and featured the IAAPA Safety Institute and the IAAPA Institute for Attractions Managers.
The Euro Attractions Show is organised by the International Association of Amusement Parks and Attractions (IAAPA), the world's largest association for the attractions industry, and takes place in a different European country every year.
"Again Amsterdam has proven to be the right place for our show," said Karen Staley, IAAPA Vice President of European Operations. " With numerous projects going on in the northwest part of Europe and with a strong and dynamic industry in the Benelux-region, we had high expectations but these figures are really extraordinary."
EAS 2015 will be held at the Swedish Exhibition and Congress Centre in Gothenburg, Sweden from October 6 to 8.