Hypersuit VR Simulator Immerses Users in Extreme Experiences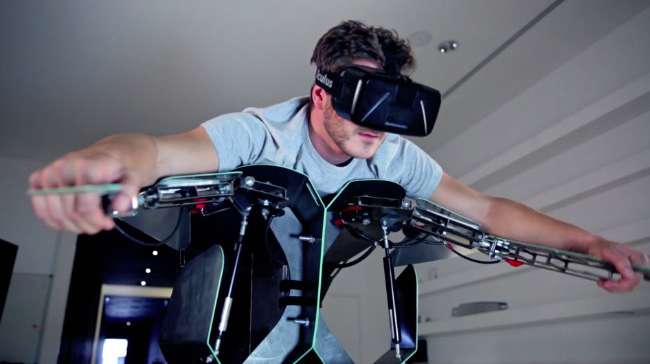 images: HYPERSUIT
The Hypersuit VR Simulator is a virtual reality machine that uses popular VR headsets to deliver highly immersive experiences controlled by users' arm movements.
The Hypersuit VR Simulator is a movable exoskeleton platform that allows users to explore and experience exciting virtual worlds using a VR headset and their own body movements. Users can simply lie on the machine and put on a headset to become part of any of the captivating, hyper-realistic virtual experiences available with the simulator. The Hypersuit engages the users' whole body, allowing them to embody different characters and feel the sensations of moving through outer space, diving under the sea, jumping off a cliff or exploring a range of other extreme environments safely.
The hardware is uniquely designed to make the virtual experiences as smooth and comfortable as possible for users and to simulate any human gesture accurately. Developed by a team of scientists and computer engineers, the machine has arms and handles that users can place their hands on to navigate through VR environments. The experiences that might be available with the simulator down the line include base jumping, flying, a superhero game, and configurations called Grand Aigle and Cosmonaute. The simulator works with popular headsets like the Oculus Rift or the HTC Vive to deliver the immersive experience and put the player directly in the game.
Hypersuit was unveiled at CES 2017, where it captivated visitors and took home the award for Best VR Technology of CES 2017. The simulator is going to be aimed at theme parks and other entertainment centres, but there are no plans to launch it as a consumer product. It also holds a considerable potential for military applications and simulator training, as it trains the user to interact with the environment. The launch date has not been announced yet.
The Hypersuit VR Simulator was developed by Hypersuit, a French start-up specializing in creating unique gaming experiences using immersive software and hardware technologies. See the simulator in action in the video below.