iWall and tapWall Bring Active Games to the Travel Industry
BY: FG Team
21 March 2018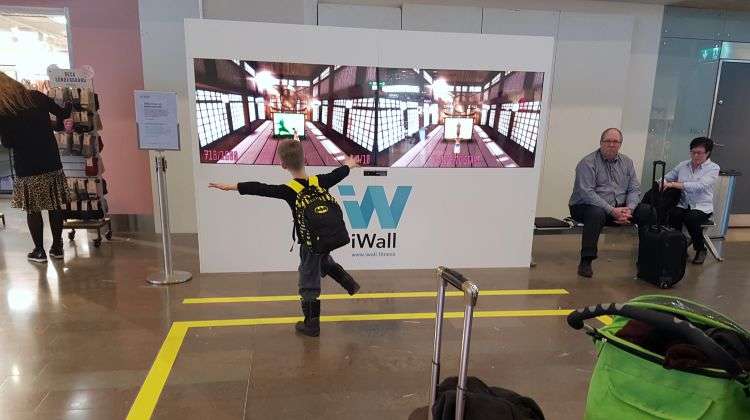 images: CSE ENTERTAINMENT
CSE Entertainment's immersive gaming platforms iWall and tapWall make an excellent solution for hotels, cruise ships and airports looking to improve customer experience and stand out from the competition. 
The iWall and tapWall interactive gaming systems use a diverse range of energizing, immersive games to deliver a unique, memorable experience in a variety of environments. The two products are used in a number of segments of the travel and tourism industry to provide hotel guests, tourists and cruise and flight passengers with a fun, original activity that can keep them engaged and entertained for hours. The gaming platforms offer an excellent way to improve customer experience at hotels, cruise ships, airports and similar environments and help them stand out from the competitors.
iWall is a fun, versatile exergaming product that lets the player become part of the game. It offers diverse game content and an interactive and social experience for players of all ages. Its accessibility and compact size make it a popular solution in a number of markets, from activity parks and family entertainment centers to schools and hospitals.
tapWall is a next-generation active touch screen gaming solution that activates both the body and the mind. It comes with games that can be played by the whole family and help improve players' overall fitness level and well-being. All the games give the players a good upper body workout and improve their hand-eye coordination, while some of them also help improve players' agility, reaction time, sequencing, visual tracking and memory skills.
The games that come with the interactive platforms are easy to play and create fun entertainment and recreation possibilities in enclosed areas. The gaming systems can be easily set up in play rooms, recreation areas, waiting rooms, lobbies, hallways and similar indoor environments.   
Fun family games for hotels and cruise ships
Many hotels and other service providers in the tourism and hotel industry have recognized the need to offer their guests or customers a more versatile range of options for recreation, fitness and leisure. Interactive platforms like the iWall and tapWall combine all three, delivering a compelling selection of games that use digital technology and immersive content to engage players in a fun blend of exercise, gameplay, socializing and competition.  
These platforms are suitable for players of any age and fitness level. In addition to supporting families spending time together, the games can be used for various family-friendly events and competitions, providing hotels and cruise ships with a more diverse offering of recreation options for their customers.
iWall is used in the Sokos Hotel in Vuokatti and SpaHotel Peurunka in Laukaa in Finland, where it helps the hotels give special attention to families with children.
"Now we are even better equipped to serve entire families as customers", says Jukka Ruuska, Service Director, SpaHotel Peurunka. 
The iWall and tapWall are particularly well suited for cruise ships looking to offer their passengers a more extensive range of options for physical activity to keep them active on cruises. The platforms are an especially welcome option on cruises with longer distances between anchorages, which do not provide many opportunities for long sightseeing walks, swimming, diving and similar activities. Both platforms were recently installed on Finnish Silja Line cruisers, where they will offer passengers a fun, active way to spend time between destinations.
Immersive games for airports
Immersive content is also becoming increasingly popular in airport waiting lounges. Active games such as those available with iWall and tapWall require players to react to the content on the screen and engage them in compelling gameplay. Other than distracting people from the boredom of waiting, the games invite them to stretch their bodies between flights and may even relieve flight anxiety. They can be particularly helpful to families traveling with young children, as they provide a fun activity to burn off some of the kids' excess energy.  
iWall is installed at the Stockholm Arlanda Airport and Göteborg Landvetter Airport in Sweden, where it has been received quite well, both by children and by their parents.
"Everyone is loving our iWall here," says Jovana Zivkovic from Passenger Services at the Arlanda airport. "I spoke with [a little boy's] parents and they were amazed by it. It was perfect for them to exhaust their son with before a long flight and the best thing was that he figured out how to do it himself without any help in just some seconds, they said. Happy parents."