Kick-Point Brings Football to Parties and Events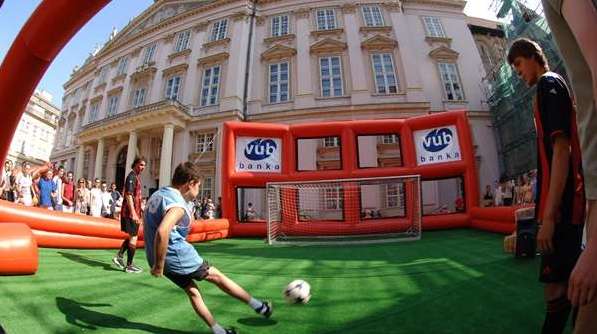 image: KICK POINT
Kick-Point is an interactive electronic football goal designed to bring excitement, fun and competition to parties and events. The system can be used indoors or outdoors and comes in several editions, with five different goal sizes. It can be used as a mobile tool for promotion and entertainment or as a fixed installation at leisure centres, parks and other venues.
Kick-Point uses a display screen to show players which part of the goal they need to target. Players are challenged to shoot down different graphics, which can consist of images, logos or numbers. They must hit the target that corresponds to the graphic shown on the screen. The goal frame is equipped with sensors that can detect the impact of the ball and measure the speed and placement of the shot. After each successful shot, players can see it replayed. At the end of the game, they get certificates that show their performance data.
Kick-Point was created by Kick-Point GmbH, a German events and promotion agency, and has been used by global brands such as Coca-Cola and McDonalds, as well as by a number of major football clubs, including Bayern Munich, AC Milan, and Ajax Amsterdam.
Watch the video to see the system at play.