Kidzpace Interactive Products Turn Any Space into Active Play Area
BY: FG Team
13 October 2017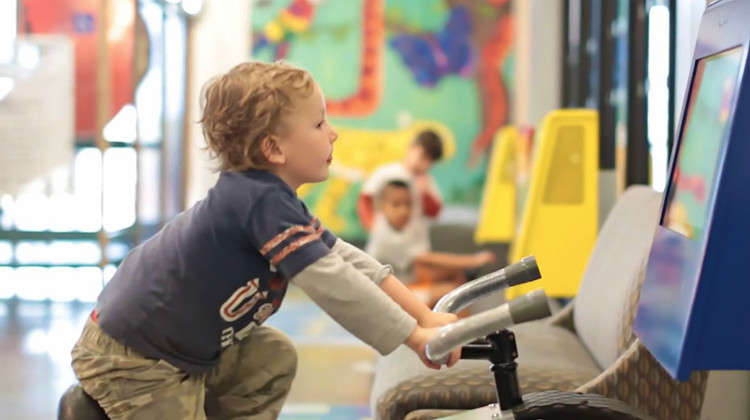 images: KIDZPACE
The Kidzpace unique active play products engage kids in onscreen games while simultaneously providing a good workout.
Canadian company Kidzpace Interactive offers an extensive line of products designed to turn any environment into a more relaxed space where children of any age can play fun games and enjoy themselves. Several of these unique gaming products – the Sport Bike, Jr. Bike and Skate/Snowboard – require kids to engage in physical activity to play. 
The Sport Bike is a stationary bike that uses video games to challenge kids to keep steering and pedalling. Children's actions on the bike directly affect the racing game displayed on the screen in front of them. The bike is best suited to children aged 6 to 14. It is very easy to install and uses quick start technology to allow players to immediately enter the race.
The Jr. Bike is designed for children aged 3 to 6. It does not use the element of competition, but instead allows kids to experience the excitement of controlling their own bike by inviting them to navigate a virtual course.
The Skate/Snowboard uses an actual skateboard to provide a realistic boarding experience for kids aged 8 and older. The system simultaneously challenges and entertains kids with onscreen games while delivering a good workout. Kids can easily switch between the snowboarding and skateboarding experience at any time.
The three interactive play products are popular in all play areas. They all work with a standard electrical outlet and come with a one year warranty. Customers have 14 cabinet colours to choose from for each product.

Kidzpace Interactive is a leading global supplier of active play and interactive entertainment products. Based in Collingwood, Ontario, the company specializes in developing innovative solutions that drive the evolution of entertainment products. Founded in 1993, Kidzpace creates durable products that offer years of enjoyment to customers even in the most demanding environments. Kidzpace games and products are used in fitness centers, hospitals, and waiting areas of pediatric, orthodontic and dentistry offices. They can also be found in some of the world's most popular fast food chains, including Burger King and McDonald's. Watch the video below to learn more about them.