Valo Motion Launches Interactive Trampoline Game Platform
BY: FG Team
14 March 2018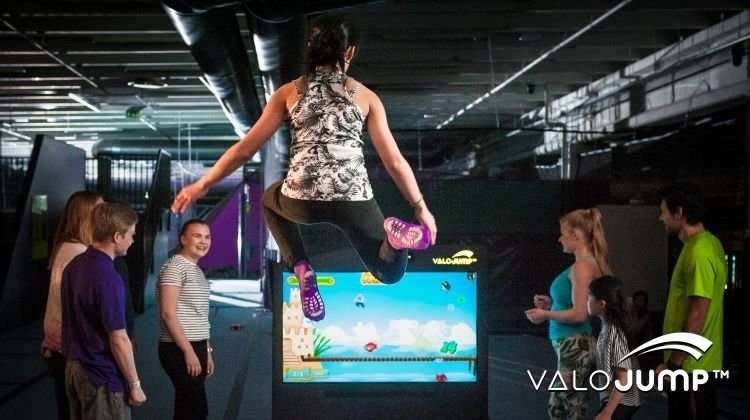 images: VALO MOTION
Valo Motion has launched ValoJump, an innovative interactive trampoline game platform that allows the player to jump directly into the game.
Valo Motion has added a new interactive gaming platform to its product family. Launched earlier this month, ValoJump is a new trampolining solution that introduces an exciting new twist to the popular activity, combining active play technology with trampolines to invite players to jump directly into the game and get a good workout while playing games. 
ValoJump is a fully automatic platform that comes in a plug-and-play package, with both hardware and software included. Developed for commercial use, the platform offers a unique, immersive gaming experience in a compact space. It appeals to athletes, gamers and anyone else looking for a fun new activity or a different, more exciting type of cardio workout. It is a perfect solution for fitness centers, activity parks, event venues and other businesses looking to introduce new attractions to their customers or to expand their offering beyond traditional fitness and sports. The system has an intuitive, user-friendly interface and a remote scheduling feature which make it possible to manage without the need for personnel for daily operations.
ValoJump comes with four games and training apps that keep the players engaged and entertained while simultaneously improving their skills. The games and apps are suitable for users of any age and fitness level, which makes the gaming platform an excellent way to introduce beginners to trampolining. ValoJump also includes a social sharing feature and video feedback apps that help more serious athletes accelerate their training cycle. 
Some of the games and apps available with ValoJump are designed for beginners and help them learn basic trampolining skills, while others help advanced users get even better. All the games make the training fun, allowing anyone to enjoy a good workout session suitable for their skill level. Beginners can play without having to perform acrobatics to score points, while experienced jumpers can enjoy a good challenge to earn the high scores.
ValoJump games deliver workouts that improve players' coordination and jump heights. Each game is different and offers a different range of challenges. Skytails, for instance, helps players learn to control their jump height and position on the trampoline by inviting them to bounce through the skies using islets, tree branches and clouds as steps while avoiding thunderbolts and other obstacles. Toywatch requires players to defend a sand castle from flying beach toys and allows them to learn basic skills by jumping back and forth and hitting the toys to deflate them. Delay Mirror helps advanced jumpers improve their tricks by recording and displaying videos of their performance with the delay time of their choice. Rec Studio allows users to record their sessions in order to perfect longer jumping sequences. Jumpers can watch the videos for feedback and share them with friends.  
ValoJump will be one of the innovative products showcased at the 2018 FIBO, which runs from April 12 to 15 in Cologne, Germany. The platform is expected to reach the first customers in the summer. Watch the video below to see how it transforms trampoline workouts.