American Council on Exercise Launches ACE Academy Elite for iPad
BY: FG Team
16 April 2014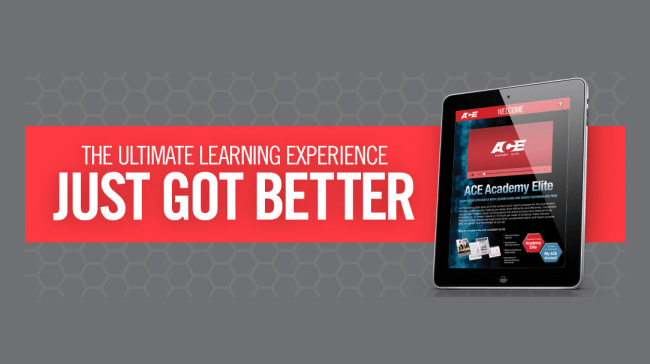 images: THE AMERICAN COUNCIL ON EXERCISE, FACEBOOK
The American Council on Exercise (ACE) has launched a new mobile study application for iPad, designed to help aspiring personal trainers become more effective.
The American Council on Exercise (ACE) has teamed up with Troy Apps Software, a San Diego-based software provider, to turn the popular ACE Academy Elite interactive guide into an iPad application. The ACE Academy Elite study guide, designed to help aspiring personal trainers get the knowledge they need to become effective and successful in their work, caters to a wide range of learning styles and, thanks to the new iPad app, can now be used on the go. The iPad version was formally launched at the IHRSA National Convention and Trade Show in San Diego in March.
The mobile edition of ACE Academy Elite was created using the Troy Apps Mobile Learning Tool platform. It offers a number of new features like tappable glossary terms, custom notes, and tap-and-expand graphics, and syncs all progress to the desktop version of the interactive study guide.
The iPad app provides future trainers with an enhanced learning experience using custom progress tracking, quizzes, and video lectures delivered by ACE Certified professionals. Also available are digital editions of ACE's Essentials of Exercise Science for Fitness Professionals and ACE Personal Trainer Manual texts.
Scott Goudeseune, ACE President and CEO, said in a release, "We want to cater to a new age of more technically savvy learners, and ACE Academy Elite for iPad helps us do that using a platform we know is effective. Offering this option helps a wider range of aspiring personal trainers obtain the knowledge and skills they need to launch their careers and contribute to the national response to the obesity epidemic and other chronic diseases."
Michael Trautt, Troy Apps Software CEO, added, "The native iPad app we developed with ACE helps break down the material into a digestible format that working parents, full-time students and others who are constantly on the go will be able to easily access and learn. The feature-rich, interactive mobile app allows them to prepare for an exam from virtually anywhere, anytime."
Candidates can reduce the time they spend preparing for the ACE Personal Trainer Certification exam to 12 weeks using the ACE Academy Elite. Based on the data collected in the last two years, they pass the exam on their first try 87 percent of the time.
The American Council on Exercise is a non-profit organisation whose goal is to educate, certify and represent fitness, wellness and health coaches and experts. Based in San Diego, California, ACE is also a community leader in the fight against obesity and physical inactivity, and advocates for the recognition of fitness professionals as providers of primary obesity management and prevention services.
For a limited time, the ACE Academy Elite for iPad is available for free with the purchase of an ACE Personal Trainer Premium Plus study bundle.