Augmented Climbing Wall Introduces First Gaming Platform for Indoor Climbing
BY: FG Team
23 September 2016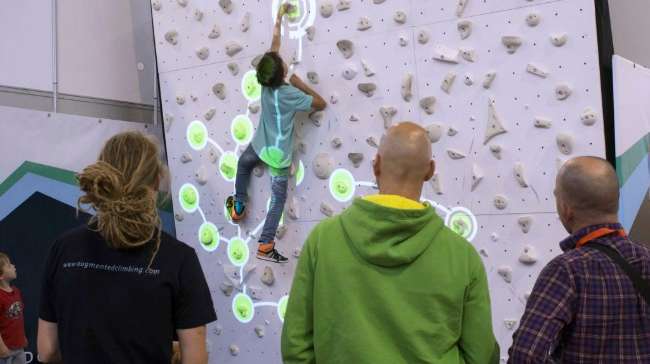 images: AUGMENTED CLIMBING WALL
Augmented Climbing Wall, the world's first gaming platform created for climbing walls, delivers a revolutionary climbing experience that combines exergames, motor skill teaching and computer vision.
Augmented Climbing Wall is the first global platform developed to introduce a versatile range of gaming options to climbing walls. It combines motion tracking with projected graphics to offer interactive games and applications that offer feedback and make training fun, motivating users to improve their climbing skills and fitness level. The platform transforms climbing walls into huge touchscreens, with a video projector displaying different graphics and climbing routes on the wall. The system can be used with existing walls and makes the perfect addition to any climbing centre, playground, gym, or indoor entertainment centre.
Suitable for users of any age and skill level, Augmented Climbing Wall uses in-depth insights from exergames, UX design, game design, computer vision and motor skill teaching to deliver an unprecedented augmented reality climbing experience. The graphics and games offer a variety of options for games, routes and challenges, maximizing the capacity of any climbing wall. The platform can also be used to display ads, brand messages and logos, which makes it an excellent solution for different events. It is easy to set up and can be customized for a wide range of applications.
Developed by a startup spin off from Aalto University Game Research in Finland, Augmented Climbing Wall currently comes with four games and applications, with new features always in development. Augmented Problems is a feature that offers a new take on traditional indoor climbing, with route creation, video feedback, sharing options, and an unlimited number of routes on the same wall. Whack-a-Bat delivers gamified endurance training, getting progressively faster and more challenging as it goes along. Sparks challenges climbers to avoid touching the electricity projected on the wall while using any holds they like, delivering fun mazes with static and dynamic levels. Climball, a ball game developed for climbing walls, combines climbing with pinball and air hockey, offering competitive and collaborative modes for two players.
The Augmented Climbing Wall can now be ordered internationally. Watch the video below to see some of the gaming options available with it.