Blue Goji's Active VR Games Immerse Players in Virtual Worlds During Cardio Workouts
BY: FG Team
6 September 2017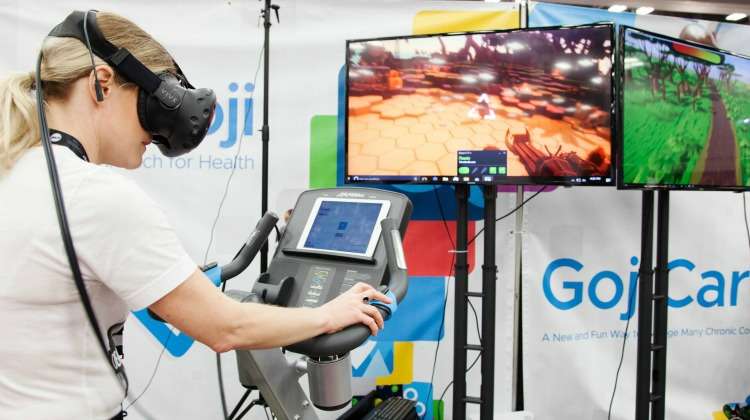 images: BLUE GOJI
Blue Goji's Active VR games have brought a diverse range of immersive virtual experiences to the Goji Play active gaming platform.
Blue Goji has introduced a range of Active VR games for Goji Play, the company's active gaming concept that uses a set of controllers to engage users in fun interactive gameplay during cardio workouts.
The VR enhancement immerses users in virtual worlds and provides unique gaming experiences while they are exercising on an elliptical machine or stationary bike, adding an entirely new dimension to their daily cardio routine. The games can be played with or without a VR headset and they can engage users in active physical gameplay with or without cardio equipment.
Interactive fitness with Goji Play
Developed to prevent users' fitness regimen from becoming tedious, Goji Play gets users moving and torching calories by using their motion on a cardio machine to drive a key element in the game, such as a character's speed or amount of power. This element of gameplay makes it easy for users to find more motivation to hop on their cardio machine and give their day a healthy start.
The games developed for the Goji Play platform can be played using only the game controllers and are suitable for people with injuries and disabilities, as well as for wheelchair users. Even with limited upper body movement, they can provide the cardiovascular benefits of physical activity that raises the heart rate, brings more oxygen to the muscles and boosts circulation, energy levels and mood.
Virtual reality gaming
The Goji Play platform update allows users to play both VR and non-VR interactive games that physically immerse them in virtual action and translate their movements into virtual space. The platform fuses real motion and in-game action in a way that mitigates any effects of motion sickness often associated with virtual reality experiences. This is particularly evident in games that require players to perform fast or intense movements.
Blue Goji has launched several new games for Oculus Rift, HTC Vive and Samsung Gear VR. The games challenge players to overcome a variety of virtual obstacles before completing their cardio workouts. At the same time, they invite players to explore immersive environments while engaged in fun, competitive gameplay.
Active VR games
Designed to transform the way people play virtual reality games, the five Active VR games – DinoFense, GoWings Safari, Parkour Runner, Cardio Racer and PunchBeat– include a variety of genres. They can all be played with cardio equipment, while DinoFense, Parkour Runner and PunchBeat can also provide a workout without a cardio machine. The VR games currently require a headset, but there are plans to implement a feature to allow users to play them on a PC without the headset, using only Goji Play controllers.
DinoFense is an adventure game that challenges players to defend their Dino Village, fight off angry cavemen and other hostile creatures, and go on rescue missions in one of the game's three main zones – Jungle, Beach or Volcano – to free their Dino friends. The game has multiple levels of difficulty and immerses players in a first-person shooter experience to keep them challenged, motivated and entertained at all times. Combined with cardio equipment, the game uses the player's movement to generate ammo, reducing the need to manually reload as often, but it can also be played with only the Goji Play controllers.
GoWings Safari takes players on an African safari, inviting them to take pictures of various animals and to protect the animals from dangerous poachers. Once they have earned higher scores, players can upgrade their equipment and get vehicles or jetpacks to make their safari more exciting. Paired with a cardio machine, the game uses players' movement to propel them into a flying mode.
Parkour Runner works the upper body by challenging players to run across rooftops and jump over obstacles for as long as they can. It works best as a standalone game because it requires players to mimic a running motion and perform various arm movements to get past obstacles as they run around the city.
Cardio Racer challenges players to race through beautiful virtual environments and complete objectives to unlock vehicle customizations and discover improved vehicles and different routes to always keep the experience fresh. Paired with an elliptical machine or stationary bike, the game challenges the player to pedal or run to gain speed in the game.
PunchBeat is a rhythm game set in a 360-degree virtual environment. It requires players to watch out for musical notes that are coming at them from all directions and to keep punching them without missing a beat to progress to new levels. Players can choose from three different genres and reap the cardio benefits they get from gameplay that mimics a boxing match.
Watch the video below to learn more about the Active VR enhancement and see some of the possibilities available with the Goji Play platform.
Goji Play is not currently available to consumers but is seeking partnership opportunities with therapy clinics, hospitals, arcades, and schools.