Cardiac: Fitness Racer at Robotfest 2013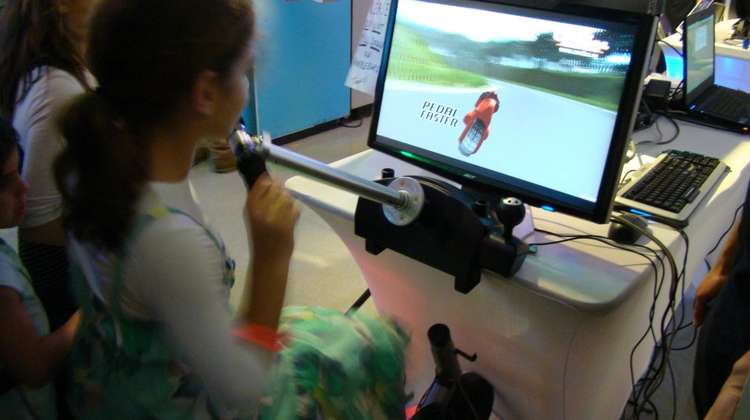 images: UNIT-E TECHNOLOGIES, FACEBOOK; CARDIAC:FITNESS RACER, FACEBOOK
Unit-e Technologies presented a new prototype of Cardiac: Fitness Racer at Robotfest 2013.
A new prototype for Cardiac: Fitness Racer, a new arcade-style exercise machine developed by Unit-e Technologies, was unveiled at Robotfest 2013, held on April 27 at the National Electronics Museum in Linthicum, Maryland.
Cardiac: Fitness Racer is designed as a racing game that engages players and provides them with a good cardio workout. Part video game, part cardio machine, Cardio: Fitness Racer uses a recumbent exercise bike to let players race against other players, either in the same venue or online. The new fitness machine is designed for use in gyms, schools, and arcades. The company's goal in developing the concept is to find the right balance between an intuitive, easy-to-play racing game for fitness enthusiasts and an experience that will appeal to serious gamers.
The game asks players to ride the Cardiac bike on courses similar to those used in traditional exercise bike routines, and to overtake other players. Dozens of players can compete against each other in a single location, or online against players in different locations. The Cardiac machine allows them to log in, track their progress in the game, and customize their characters and rides.
Watch the video to see Cardiac: Fitness Racer at Robotfest.