CardioWall FreeStyle and SkyPods Enhance Experience in Trampoline Parks
BY: FG Team
8 August 2016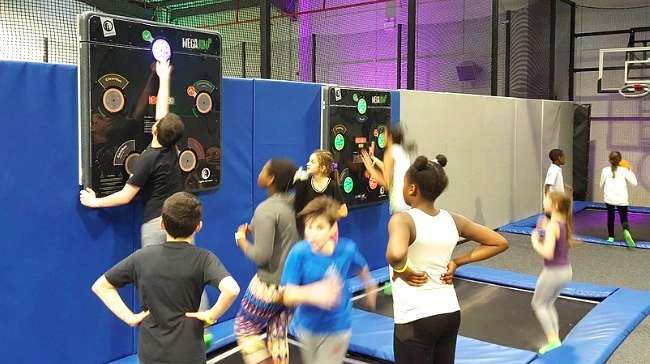 images: RUGGED INTERACTIVE
Rugged Interactive's CardioWall FreeStyle and SkyPods are designed to add an entirely new dimension to trampoline parks by introducing interactive games to trampolining.
The CardioWall FreeStyle and SkyPods offer a new way to exercise and have fun in trampoline parks by introducing elements of interactivity and competitive play to trampolining. Developed by Rugged Interactive, the products add engaging interactive gameplay that keeps players motivated and performing at the top of their game, helping them reap the numerous benefits of trampolining.
The popular activity offers a low-impact workout with the potential to burn up to a thousand calories per hour while also helping players improve their balance and agility. Popular mainly for the fun factor, trampoline parks are used for birthday parties and various group events, but also for general fitness and sports training sessions. Trampolining is known to firm and tone abdominal and leg muscles, improve bone mineral content, increase energy, oxygen capacity and lymphatic flow in the body, improve coordination and motor skills, and stimulate metabolism. A ten-minute session offers the benefits of a half-hour run, but is much easier on the joints.
Rugged Interactive's products were created to make any trampoline park stand out from the competition and give the customers a strong incentive to keep coming back. The CardioWall FreeStyle consists of two fully customizable CardioWalls and a Multiplayer Launch unit, and comes with four interactive game options. The interactive wall is an excellent tool for training reaction speed, peripheral vision, mental and visual alertness, jumping accuracy and hand-eye coordination, challenging players to score points with accurate hits.
The interactive games can be started directly from the pods and the remote Multiplayer Launch console makes it easy to set up 1-to-1 challenges. The CardioWall FreeStyle and SkyPods are placed just out of players' reach, motivating them to keep jumping higher and faster, and keeping them engaged in the games for longer than a regular trampoline workout would. Integrating the games into trampoline centres is an excellent way to test players' jumping accuracy and reaction time, as well as to improve their motor and social skills.
CardioWall FreeStyle is already used by a number of trampoline centers across the UK, including Mega Jump in Borehamwood, Energi Trampoline Park in Preston, the Bounce Indoor Trampoline Parks in Milton Keynes and Peterborough, and Oxygen Freejumping indoor trampoline parks in multiple locations. Watch the video below to see the kind of experience the CardioWall FreeStyle delivers.