CSE Entertainment Presents Immersive Wall and 4Active at Big Boys Toys Show
BY: FG Team
30 November 2016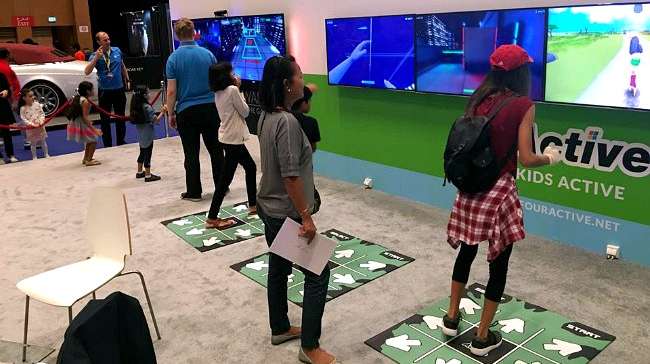 images: CSE ENTERTAINMENT
CSE Entertainment showcased two new active gaming products, 4Active and Immersive Wall, at the 2016 Big Boys Toys trade show in Abu Dhabi.
Finnish active gaming equipment developer CSE Entertainment presented two new innovative interactive fitness products, the Immersive Wall and 4Active, at the 7th annual Big Boys Toys trade show, held at the Abu Dhabi National Exhibition Centre (ADNEC) in Abu Dhabi from November 23 to 26. The show is the region's leading luxury lifestyle expo, featuring some of the world's most innovative and luxurious products, technologies and services.
Suitable for users of any age, the Immersive Wall is a multiplayer motion gaming solution that requires one or two players to control the games using only their movements and gestures. The interactive wall uses 4K graphics and highly engaging games to ensure that players have a lot of fun while simultaneously getting a good workout. The wall comes with two preloaded games, Neon and Parkour. Parkour challenges players to race across skyscraper rooftops and avoid obstacles by changing position, while Neon puts them in control of a virtual sky surfer who must avoid obstacles and collect different items to score points. Additional content for the Immersive Wall can be downloaded from the product website directly to the setup.
4Active, the other product presented at the show, is designed for 1 to 4 players and combines Ultra High Definition graphics with top quality immersive games to challenge and develop children's physical and cognitive skills. The games are suitable for small children, but also compelling for adults. Players can choose to play them by themselves or in multiplayer mode.
4Active comes with three preloaded games, with more content available on the product website. The games that come with the setup are Neon, Parkour and King of Food. Neon and Parkour are the same games as those available with the Immersive Wall, and King of Food is a multiplayer game that requires players to control an onscreen avatar to collect fruits. Players must be careful to avoid poisonous mushrooms while also trying not to fall into the water. New content for the setup will be released regularly and available for direct download from the online portal.
In addition to 4Active and the Immersive Wall, CSE Entertainment also presented the Trixter VR bike powered by Athene at the show. See the products in action in the video below.