CyberCrossing Offers Full Body Workout on Elliptical Machines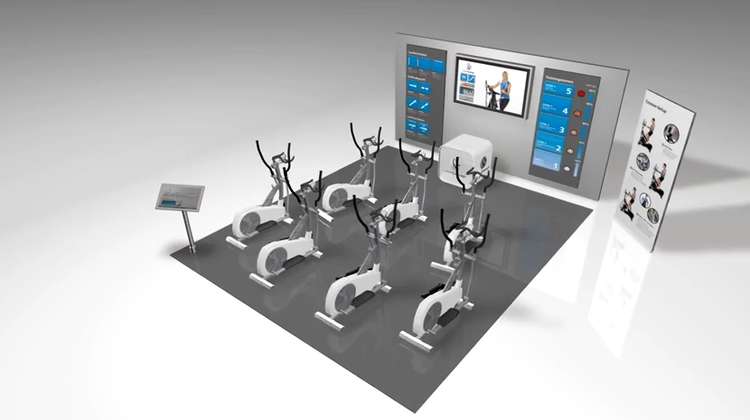 images: CYBER CONCEPT
CyberCrossing is an innovative training program for elliptical trainers that offers effective low-impact cardio workouts for users of all ages.
CyberCrossing, a virtual training program designed for elliptical trainers, offers a versatile training solution for the popular cardio machine. Developed by CyberConcept, the program can be used at fitness centres, sports clubs, hotel gyms, and similar facilities that offer fitness and health programs.
CyberCrossing offers a full body workout on a single machine. Elliptical trainers are hugely popular among gym goers because they deliver similar benefits as treadmills, but are low-impact machines and much easier on the knees, hips, back and joints. Unlike treadmills, elliptical machines are equipped with handles that allow users to work their arms and not just their legs, and can help prevent overload injuries. Additionally, ellipticals can be pedalled in reverse, allowing users to exercise their calf and hamstring muscles more than they would in forward motion.
CyberConcept's training program is designed to improve muscle tone and coordination as well as endurance and overall cardiovascular fitness. The fat-burning workout available with the program is both fun and efficient, and well suited to all age groups. It uses different running techniques, levels of difficulty, routes, and energising music to keep users engaged and motivated. The program is designed to work the entire body, including back and abdominal muscles.
The workout sessions last from 30 to 90 minutes including warm-ups and cool-downs, and participants are guided by a virtual trainer who explains each workout, motivates them throughout the session, and offers general fitness tips. Beginners can also watch instructional videos before starting their first workout to learn how to adjust the elliptical machine and the training intensity to their fitness level.
CyberCrossing classes offer complete flexibility and an individual experience for every user. The program doesn't require a trainer to be physically present or participants to show up at a specific time. The training sessions are designed to deliver a balanced workout program that gym members can do individually, on their own schedule.