Dragon Fit Immerses Cyclists into Fantasy Worlds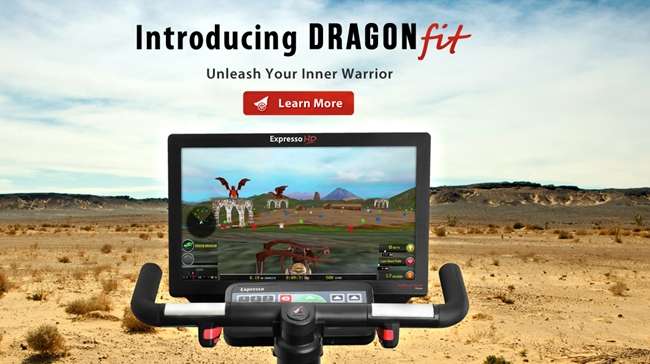 images: INTERACTIVE FITNESS
Dragon Fit, an interactive experience available exclusively on Expresso HD bikes with eLive, offers riders a varied range of fantasy worlds and gaming options.
Dragon Fit is one of the options available with Expresso HD bikes that make indoor riding an exciting interactive experience. Unlike Expresso's road experience, which turns indoor cycling into an interactive, competitive group ride on different virtual terrains, the Dragon Fit program engages cyclists in fantasy worlds: the Treasure World, the Dragon World and the Explorer World.
The Treasure World invites cyclists to explore virtual tours and maps of a fantasy world and to collect coins, treasure and other goodies to pick up speed and earn bonuses. Riders can choose between different virtual environments, which include a pirates' cove and an outpost on the moon of the Treasure World. The Dragon World challenges riders to use both their bodies and their brains to catch coins and tame dragons, while the Explorer World features animal adventures, downhill rides and mazes, challenging cyclists to recover stolen items or defend a kingdom from dragons.
The Dragon Fit program motivates riders to keep progressing as they train to earn trophies and unlock new maps. Each fantasy world comes with three different game levels and players must score a certain number of points to advance in the game. As they unlock new maps, players can compete with other riders on the leadersboards to become masters of different disciplines, including speed, distance and tactics. Each of the games can be played in speed, distance or tactics mode.
The Expresso HD bike is available in three different editions: upright, recumbent and youth. Each edition comes with a screen and a range of options for interactive cycling. The Dragon Fit program requires eLive, which connects the interactive bikes to the cloud and makes it possible for fitness club members to participate in different challenges between facilities, to ride against ghost riders or train with friends. eLive also offers analytics that includes data on member engagement and allows cyclists to track their progress over time.