3rd European Health and Fitness Forum Aims to Grow Industry Through Innovation
BY: FG Team
25 March 2016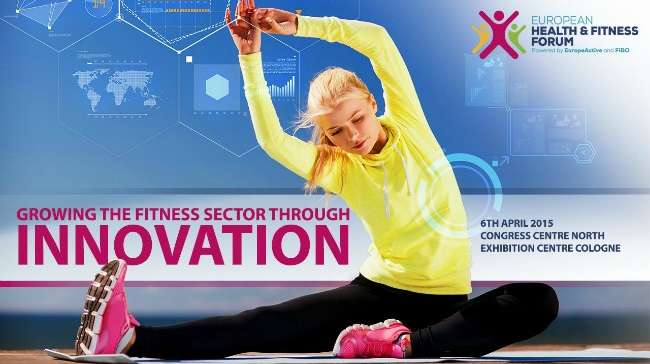 images: EUROPEACTIVE, FIBO
The 3rd European Health and Fitness Forum, which opens the 2016 FIBO on April 6, 2016, will focus on advancing the fitness industry through innovation.
The 3rd annual European Health and Fitness Forum (EHFF) will be held as the opening event of the 2016 FIBO International Trade Show in Cologne, Germany, on April 6. Organized by EuropeActive and FIBO EXPERT, EHFF 2016 will follow the success of the sold out 2015 event with a focus on 'Growing the fitness sector through innovation.'
Innovation is vital to reaching the target of 80 million fitness club members in Europe by 2025, which is why the 2016 event will place an emphasis on new solutions and technologies, in addition to covering general developments in the fitness sector.
EHFF 2016 will host a number of expert speakers from different industries, including active leisure, health care and politics, to offer practical insights into the benefits of innovation and provide examples of successful implementation of new solutions. These sessions will be followed by roundtable discussions with representatives of leading health and fitness industry suppliers and operators.
Karsten Hollasch, Corporate Finance Partner at Deloitte, will give a presentation on "The European H&F Market in 2015: Trends, Insights and Information from Recent Developments," the latest comprehensive study on Europe's health and fitness industry. The report will offer the most current information on the main European markets, recent mergers and acquisitions, and the major club operators in Europe and equipment manufacturers worldwide. The research is published by EuropeActive in cooperation with Deloitte.
Carl Rohde, professor of Trendwatching and Innovation, University of Shanghai and Amsterdam, will offer insights on the topic of "Future Forecasting & Fitness Innovations," while Antonio Dávila, professor at the IESE Business School in Barcelona, will give a presentation titled "Making Innovation Work!" Rohde will also moderate a roundtable on digital developments, while Dávila will lead a discussion on ways to create an innovation embracing mentality within companies.
The full-day event will also host other speakers and presentations of case studies related to innovation, promoting physical activity among seniors, and ways to drive sales using customer data. Attendees will get a chance to network during the reception, lunch, dinner and coffee breaks, and they will each receive a copy of the new EuropeActive publication "Growing the Fitness Sector Through Innovation," as well as a two-day ticket to FIBO 2016.
The 2016 European Health and Fitness Forum will be held at the Congress Center Nord at the Exhibition Centre Cologne from 9:30 to 17:30.