Elevate 2016 Tackles Inactivity Through Societal Change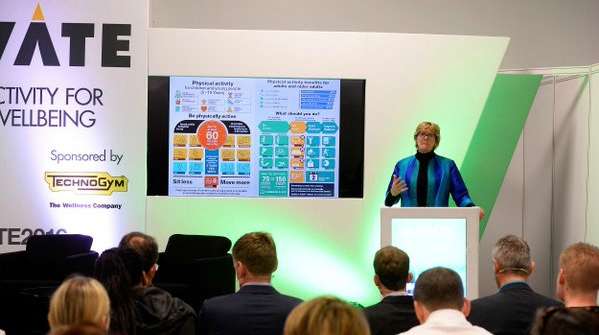 images: ELEVATE, RUGGED INTERACTIVE, PAVIGYM, PULSE FITNESS
The inaugural Elevate, the UK's first event welcoming experts in multiple fields to tackle the growing problem of physical inactivity, was held in London on May 4 and 5, 2016.
Elevate 2016, the inaugural trade fair bringing together fitness, health and performance experts, academics and government representatives to focus on the problem of physical inactivity, was held at Olympia London on May 4 and 5, 2016. Elevate is the first trade event of its kind in the UK, launched to tackle the complexities of societal change required to address inactivity.
The trade show kicked off with addresses from high-profile public health experts and hosted a number of sessions that touched on the importance of physical activity for health and wellbeing, ways to increase participation, and the latest consumer trends and developments in human performance. Dame Sally Davies, the Chief Medical Officer for England, gave a keynote address emphasizing the role that physical activity has to play in the public health agenda, while Justin Varney, Interim Deputy Director of Health and Wellbeing at Public Health England, discussed its potential for prevention and treatment of non-communicable diseases.
Elevate also offered a seminar program with hundreds of speakers providing insights into the latest research and examples of ways in which new knowledge is being used to good effect in the fitness and health sectors. The speakers also examined ways to create opportunities for people to include exercise and physical activity into their daily lives and the role technology plays in the process. Advances in technology were also discussed in the context of healthcare and the impact they have or could have on the wider public health.
Some of the biggest names in interactive fitness exhibited their products and technologies at the event. Concept2 introduced visitors to the Concept2 Indoor Rower, the best-selling indoor rowing machine in the world, eGym presented its intelligent eGym strength training system, and Interactive Fitness Holdings showcased the Expresso HD line of interactive exercise bikes.
MyZone presented its innovative platform with a member engagement system developed for fitness club operators, Pavigym showcased the PRAMA functional training platform, and Rugged Interactive presented a range of interactive fitness equipment designed to motivate people to stay fit. Firstbeat brought its cutting edge solutions for physiological analytics, used by elite athletes and sports teams around the world. Pulse Fitness unveiled a range of brand new strength and conditioning solutions and demonstrated PulseMove, an innovative fitness tracker that allows users to track and log their activity, create personalised training plans, set goals, and monitor their progress.
Elevate was organised by Quartz Sequioa Events, a company with significant experience in managing events in the fields of public health, leisure and physical activity. The event was supported by a number of leading organisations in the field of fitness and health, including the Institute of Sport Exercise and Health, Public Health England, the English Institute of Sport, the Faculty of Sport and Exercise Medicine, and the British Association of Sport and Exercise Sciences.
Elevate 2017 will be held at ExCel London on May 10 and 11, 2017.