FIBO 2016 Set to Unveil Latest Health and Fitness Innovations in April
BY: FG Team
28 March 2016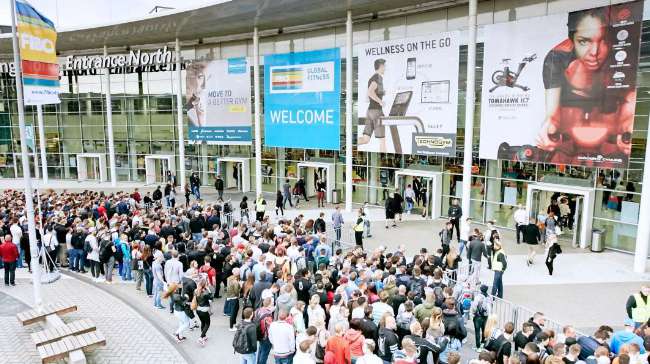 images: FIBO, PIXFORMANCE, BODY BIKE, SPIVI, CYBERCONCEPT
The 2016 FIBO Trade Show will gather fitness and health industry leaders in Cologne, Germany, from April 7 to 10, 2016.
The 2016 FIBO Trade Show, which takes place at the Exhibition Centre Cologne in Cologne, Germany from April 7 to 10, will gather the world's leading fitness and health industry experts, manufacturers, distributors and operators for four days of insights into the industry's latest trends, training programs, business strategies, fitness equipment, fashion and accessories.
The 2016 FIBO will kick off with the 3rd European Health and Fitness Forum, which takes place on April 6, a day before the main event. Powered by FIBO Expert and EuropeActive, the forum will focus on the innovations that the industry needs to motivate more Europeans to join fitness clubs, and it will open the floor to experts to discuss the changes required in all areas of the industry.
This year's FIBO will present the latest fitness products in three exhibit sectors: FIBO Expert, FIBO Passion, and FIBO Power. FIBO Expert will serve as a business platform for exhibitors in the segments of training equipment, sports nutrition, medical solutions, functional training, cross fit, wellness and beauty, mobile devices and performance apparel, among others. The exhibitors will present their latest and most effective functional training and group fitness concepts, as well as a variety of solutions for athletic performance training and wearable fitness devices.
FIBO Passion will feature a shopping mall for visitors looking for home fitness equipment, personal care products, and new sports and fitness apparel collections. Visitors will get a chance to see the latest fitness fashion presented on the catwalk. As part of the program in this segment, the Active Hall will provide an exciting platform for energizing stage shows that will encourage visitors to dance along as the presenters showcase the latest group fitness programs and concepts. Meanwhile, FIBO Power will focus on bodybuilding, weight training and martial arts, presenting the most innovative solutions and accessories in these segments.
FIBO 2016 will host more than 725 exhibitors from 40 countries in an exhibition space 130,000 square metres in size. Exhibitors will include fitness and health associations, equipment manufacturers and suppliers, gym and health club operators, business leaders, coaches and trainers, nutrition experts, and legal and insurance specialists. This year, the event is expected to welcome more than 138,000 visitors from more than 100 countries across the world, including 60,000 trade visitors. The trade visitors will represent a wide range of sectors, including schools, sports associations, hotels, wellness and spa facilities, hospitals, medical practices, rehabilitation centres, and health insurance funds.
The equipment manufacturers that will showcase their products include many big names in interactive fitness, rehabilitation and health sectors, among them Activetainment, Activio, Body Bike, Concept2, CyberConcept, Design Park Development, eGym, Funxtion, h/p/cosmos, Hocoma, Icaros, Inbody, the Indoor Cycling Group, MyZone, Pavigym, Pixformance, Polar, Spivi, Tanita, Technogym, Wexer Virtual, Zebris Medical, and Zumba.
In addition to showcasing the latest products and innovations, the 2016 FIBO will host a number of forums and seminars. The 2nd international DAASM Symposium, presented by the German Academy of Applied Sports Medicine, will cover topics related to therapy, training and management of patients. The DIFG Digital Fitness Summit, organised by the German Industry Association for Fitness and Health (DIFG), will present insights into new digital offerings, technological developments and online fitness business models. The FIBO Med Congress will focus on a variety of topics, including training, big data and liability issues, while the MED Physio Day will provide new insights into creating tailored exercise programs in the areas of therapy, prevention and rehabilitation.
FIBO 2016 will also present the annual FIBO Innovation Awards for the most innovative products of the year. The nominated products will be on display at the FIBO Innovation Forum in Hall 4.2. The FIBO Concept Award will be presented to the developers of the most innovative and health concept, who will be provided with consulting services to help realize their ideas.
The first two days of FIBO 2016 (April 7 and 8) are reserved for trade visitors only and the doors will be open to private visitors on the weekend (April 9 and 10).