FIBO 2017 Increases International Reach with Record-Setting Numbers
BY: FG Team
21 April 2017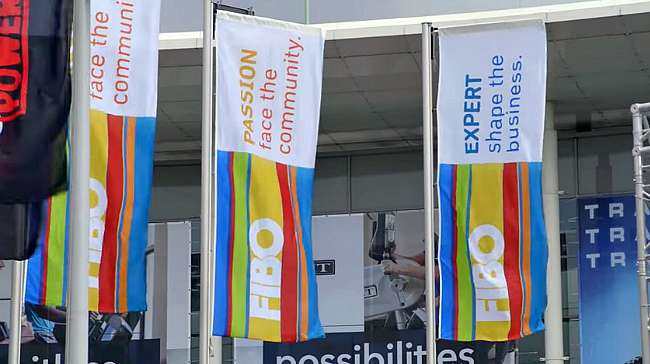 images: FIBO (BEHRENDT & RAUSCH, GILI SHANI), H/P/COSMOS SPORTS & MEDICAL, ACTIVETAINMENT, CSE ENTERTAINMENT, EFIGHTING, ICAROS
The 2017 FIBO, held from April 6 to 9 in Cologne, Germany, featured innovative health and fitness solutions and technologies from more than 1,000 exhibitors.
The 2017 FIBO was held at the Exhibition Centre Cologne in Cologne, Germany from April 6 to 9. The world's largest trade show for the fitness and health industry once again treated visitors to an impressive range of innovative products and technologies, and hosted a series of informative sessions led by industry leaders across the three shows – FIBO EXPERT, FIBO PASSION and FIBO POWER – that bring together the fitness industry's key players and investors every year.
FIBO 2017 welcomed 1,019 exhibitors from 49 countries, continuing the show's steady growth trajectory in recent years, and drew more than 150,000 visitors, including about 83,000 trade visitors. 614 of the exhibitors (60.2%) came from abroad, as did more than a quarter of the trade visitors, proving FIBO's increasing international relevance.
The trade show kicked off with the 4th European Health & Fitness Forum (EHFF) on April 5. The European Health & Fitness Market Report 2017, presented by EuropeActive and Deloitte at the forum, revealed that industry sales in the sector have reached €26.3 billion on the old continent, chalking a 3.1% growth over the previous year, and that more than 56 million Europeans have a health or fitness club membership, marking an increase of 4.4% over 2016. The latest figures make Europe the world's largest health and fitness market, ahead of the United States.
FIBO EXPERT welcomed exhibitors and other industry professionals looking to deepen contacts and gain knowledge to help them align their business strategies with the latest technologies and trends. Visitors had the opportunity to see the latest products and attend a series of training and conference sessions in areas including functional training and cross fit, training equipment, mobile devices, medical, wellness and beauty, EMS and trading.
Exhibitors at FIBO EXPERT showcased a versatile range of new products. Body Bike International presented the BODY BIKE SMART®+, a battery-free indoor bike that features the revolutionary SMART Charge technology, which allows users to connect their phone to the bike using a USB cable to start generating power with each pedal stroke and charging their phone. Cyclists can also use the Body Bike Indoor Cycling app to track their workouts.
Pulse Fitness introduced a range of immersive virtual reality fitness equipment that offers users a 360-degree experience and more than 100 virtual gaming programs and environments for the Pulse treadmill and other cardio machines that will be launched later this year.
Firstbeat Technologies presented Firstbeat Sports, which facilitates training optimization and reduces risk of injury, and Firstbeat Lifestyle Assessment, a coaching tool for health and wellness checks. Reaxing brought the Reax Board, an intelligent floor that can reproduce and generate balance interferences during motor gestures to deliver the highest neuromuscular level of intensity. Spivi presented the Spivi Studio, a 3D simulator system for fitness clubs and indoor cycling studios.
Technogym launched MyCycling, which combines a smart trainer, companion app, personalized programs and a network of trainers to allow indoor cyclists to completely transform their outdoor performance. The company also presented the Skillrow indoor rowing technology and a range of new digital products.
Activetainment presented the ebove B/01 bike and eGym brought its cloud-based gym equipment and software along with sophisticated apps that offer fun, safe and highly motivating workouts. FunXtion International showcased its all-in-one functional training concept, while Pavigym brought the versatile PRAMA interactive fitness platform. Other exhibitors at the show included Tanita Europe, boditrax Technologies, h/p/cosmos sports & medical, Icaros, MyZone, ukactive, and eFighting.
The congresses and seminars at FIBO Expert included the FIBO MED Physioday, which focused on prevention, therapy and rehabilitation, the Smart Body symposium, which presented creative training therapies for athletes, a workshop on corporate health management, the THERA-BIZ Congress for physical therapists, and a congress on personal training and electrical muscle stimulation (EMS).
FIBO PASSION, which focused on fitness as a lifestyle, hosted an action-packed fitness show with exhibitors presenting the latest trends in group fitness, as well as a range of wearables, apparel, small devices, literature, cosmetics and care products. Exhibitors included brands such as Nike, Adidas, Puma, Fitbit, Zumba and Piloxing. The first FIBO European Convention was held as part of the program and welcomed presenters from the group fitness, aqua fitness and hip-hop segments, who held training sessions for trainers from all over Europe.
FIBO POWER, the trade show's platform for the weight training, bodybuilding and martial arts segment, hosted a number of stage shows, workshops and competitions. The FIBO POWER Symposium welcomed leading experts in the nutrition and fitness sector, who offered valuable insights into metabolic processes and the latest scientific findings.
The FIBO Innovation and Trends Awards once again honoured the most innovative fitness products of the year. The Trade Visitor Award was presented to Independent Workout, a program that provides users with a direct and easy way to offer a selection of prevention courses eligible for health insurer subsidies in Germany. Both the Private Visitor Award and the Jury Award went to FUNS C, a versatile training station developed by Transatlantic Fitness, which consists of a 10-foot-high tower that allows 10 people to exercise at the same time.
3D Body Tracking by Bodygee AG, a web app that allows users to track their body transformation was honoured by the FIBO jury for their contribution to the advancement of the industry.
FIBO will return to the Exhibition Centre Cologne from April 12 to 15, 2018.