Expresso HD Upright Bike Uses Real Steering and Active Resistance to Deliver Virtual Rides
BY: FG Team
12 February 2017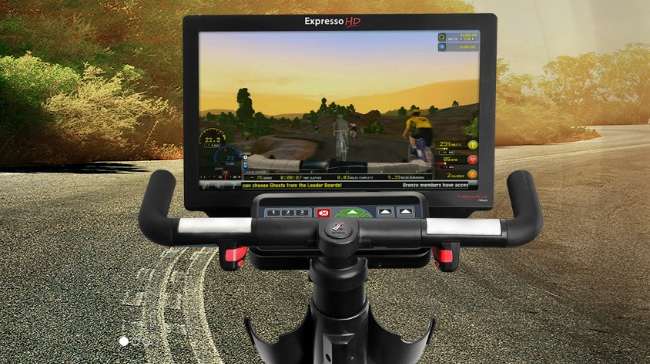 images: INTERACTIVE FITNESS
The Expresso HD Upright Bike uses virtual reality technology and active, terrain-based resistance to engage users in motivational rides against their personal best scores or other riders.
The Expresso HD Upright Bike is a virtual reality exercise bike that uses real steering and active resistance to deliver a real bike riding experience to indoor users. With 30 gears, the bike offers fine-grained control to riders as it automatically adjusts to the terrain on the screen, changing resistance and pedal intensity as the riders descend or climb the virtual terrains. Meanwhile, the Expresso HD Motion Control Handlebars, which steer and shift just like those on a regular outdoor bike, engage the riders' upper body, as well as their brain, in the workout.
The most popular model in Interactive Fitness' range of indoor bikes offers a selection of more than 40 virtual rides, including a 20-mile mountain climb and a 1-mile speed track. Riding options include ghost rides, group rides and challenges, and the Dragon Fit program offers a unique interactive experience, inviting riders to explore maps of fantasy worlds, earn trophies to progress through game levels, and compete with other users on the leaderboards to master different disciplines. The disciplines include distance, tactics and speed. With the Expresso bikes, riders get nine maps to explore and 243 time and discipline combinations to master.
The Expresso HD Upright Bike tracks riders' progress and uses an Internet connection to store their performance data. Users can sign in to the My Expresso portal to track their stats and view their entire ride history. The portal also allows them to connect to various third party fitness apps, such as MyFitnessPal or HumanaVitality, for more insight into their progress and additional guidance in training.
The Expresso HD Upright Bike comes with a 23'' HD display on a LED backlit LCD monitor that delivers virtual rides to energize and enhance users' cardio workouts. The bike's base unit has impressive processing power and is built to withstand frequent use. In fitness and health clubs. The adjustable seat offers 20 height positions and seven horizontal positions, and is interchangeable with any standard bike seat. The bike comes with a 3-year warranty, 3 years of eLive services and Interactive Fitness support.