Expresso Youth Bike Engages Kids in Virtual Reality Cycling
BY: FG Team
27 April 2016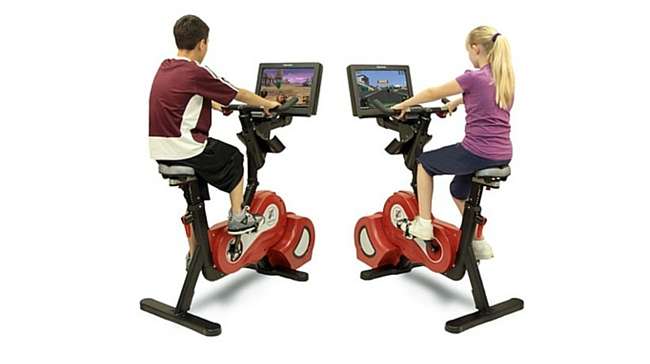 images: INTERACTIVE FITNESS
The Expresso HD Youth Bike is an interactive fitness bike built to keep kids active and immersed in virtual reality cycling for hours.
The Expresso HD Youth Bike is a fun piece of cardio equipment designed specifically for children. It uses virtual reality games and challenges to keep kids engaged in virtual cycling for extended periods of time. The bike uses a 23'' display to immerse users in HD graphics and colourful onscreen elements that breathe new life into their workouts. The base unit itself is developed by Giada. It is resilient and durable, and provides enormous processing power.
The Youth Bike offers a realistic cycling experience, allowing users to feel the terrain as they pedal and shift through 30 gears. The Active Resistance lets them experience descents and climbs as if they were on a real road, as the pedal intensity changes with the incline. At the same time, the Expresso HD Motion Control Handlebars can turn and shift, just like those on a regular outdoor bike, engaging users' upper body as much as their legs during the workouts. The bike is suitable for users of different ages. It has an adjustable seat, with 16 height positions and seven horizontal positions. The seat is interchangeable with any standard bike seat.
The Expresso Youth Bike offers a variety of competitive gaming options to motivate users to stay active. These include 43 different tours, challenges and leaderboards, ghost rides and group rides. The Dragon Fit experience lets users unleash their inner warrior as they tour virtual maps and worlds, earn trophies, and unlock new maps to explore. Users can compete against others on the leaderboards and work to master different disciplines, including speed, power and tactics.
The games are particularly well suited for kids, as the platform allows them to track their progress and improvements, achieve their goals, find new challenges, and compare their scores to those of other players. To keep themselves motivated, users can sign in to the My Expresso portal to get an overview of their stats and ride history, and to connect to various third party apps, including HumanaVitality and MyFitnessPal.