FILEX 2015: Report
BY: FG Team
27 April 2015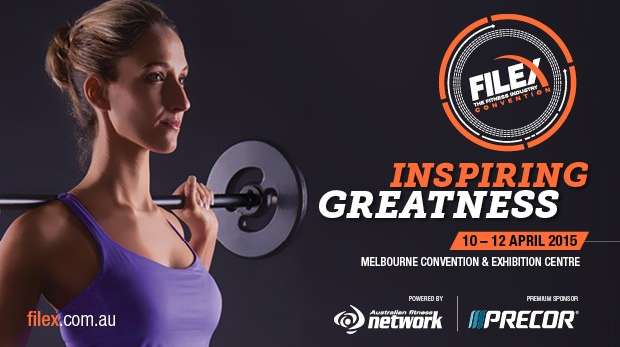 images: FILEX, FILEX FACEBOOK
The 2015 FILEX Convention, Australia's largest fitness industry educational event, was held in Melbourne from April 10 to 12.
FILEX 2015, a three-day convention presenting the best of the fitness and health industry, was held at the Melbourne Convention and Exhibition Centre from April 10 to 12. The largest fitness industry educational event was co-located with the Fitness & Health Expo Melbourne, also held from April 10 to 12 this year, to provide visitors with a unique opportunity to discover a diverse range of new training concepts and techniques and meet other fitness industry professionals.
The 2015 FILEX Convention presented the latest information, both in theory and practical sessions led by leading industry experts. The event welcomed more than 120 presenters and hosted 240 sessions that covered a wide range of topics. The tracks at FILEX 2015 covered virtually every aspect of the fitness industry: business, personal training, group training, nutrition and fat loss, group exercise, indoor cycling, physio and exercise therapy, lifestyle and exercise medicine, mind body and aqua fitness.
Additionally, FILEX hosted six pre-convention workshops and two one-day summits. The pre-convention workshops included the bodyweight athlete workshop, the Schwinn Cycling Instructor Certification, the YogaFit PreNatal workshop and the PTA Global Personal Training Bridging workshop.
The FILEX Business Summit welcomed world-leading experts from Australia and abroad to share proven strategies for fitness industry professionals to strengthen their leadership skills and grow their business.
The PT Business Summit provided personal trainers with an opportunity to network with other trainers, fitness studio owners and managers. Attendees also had a chance to hear practical advice and innovative ideas to help them become more successful, increase retention and facilitate lasting change in their clients.
The FILEX Conference offered visitors plenty of opportunities to meet with other industry professionals at several networking events, including the FILEX 2015 Delegate Welcome Drinks, Klub Kiwi Drinks, the Business Breakfast, and the PT Breakfast.
FILEX visitors who also attended the Fitness & Health Expo enjoyed world-class presentations, the latest fitness equipment and apparel, and show-only special offers from leading fitness brands.