HeavyBall: Full Body Strength and Cardio Training
BY: FG Team
5 August 2014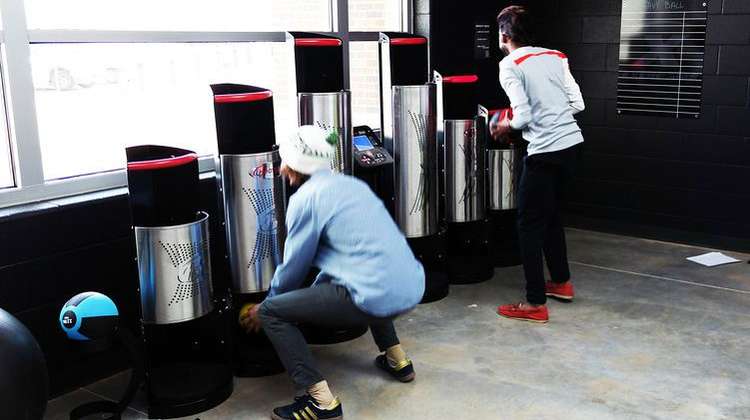 images: EXERGAME FITNESS, FIT INTERACTIVE
Fit Interactive's HeavyBall game delivers a full body strength and cardio workout that improves users' agility and speed.
The HeavyBall is an interactive fitness game that uses medicine balls of varying weights – 2 to 8 lbs – to deliver both an upper and lower body cardio and strength workout. The game asks players to move laterally from one cylinder to the next and to drop and retrieve the ball while following the cues provided by lights and sounds. To get the high scores, players must have a good reaction time. The HeavyBall allows one to three users to play simultaneously.
Players can pick a medicine ball suitable to their level and select a time interval for their game. They start the game by dropping the ball down any cylinder, triggering the first light, and then responding to the light cue. Players must locate the light sensor on top of the tube and drop the ball down the tube as quickly as they can. When the ball drops and hits the sensor, it activates another tube to randomly light up. Users score points based on their speed.
The HeavyBall is an excellent solution for trainers looking to improve their clients' proper squatting and lifting technique and to work on moving laterally, which the game requires them to do. The game also provides a good cardio workout. Users can choose between adult or child setting; the adult setting uses all tubes for the game, while the child setting only uses the lower two heights.
The system can be set up in a corner, a straight line, or a triangle, which makes it both a practical and versatile solution for trainers and gym owners. The device is an excellent tool for increasing lateral movement, developing hand-eye coordination, and improving balance, agility, reaction time, and full body coordination.