Holofit Immerses Participants in Interactive Environments for Different Types of Workouts
BY: FG Team
10 April 2017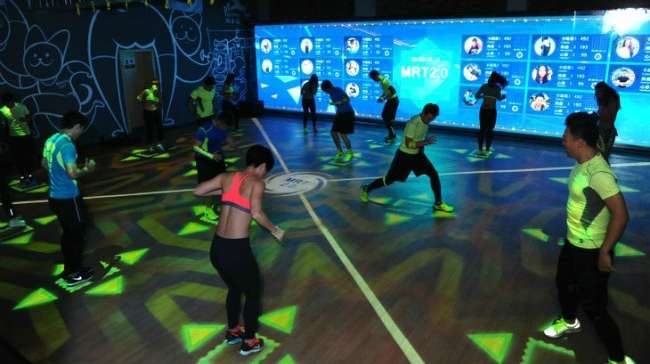 images: RUNNING CAT
Holofit is a training environment that combines video games, interactive workouts and performance tracking to offer participants a wider, more fun range of workout options.
The Holofit training system is an interactive platform that uses video gaming technology to reinvent workout space and make it more appealing to participants. Developed by Running Cat and targeted primarily at young people, the platform offers virtual landscapes to make workouts more interesting and it projects participants' vital stats on a video wall to keep them motivated and provide them with insight into their performance and progress.
Designed by a group of top fitness coaches, multimedia designers, sports physiologists and software and hardware engineers as an interactive tool to increase training efficiency, Holofit offers a social environment for group workouts to give participants the support they need to improve their strength, stamina and overall fitness level while immersing them in intense workout sessions. The holographic training space integrates recording, guidance, visualization, interaction and feedback features to make training more engaging and challenging. The immersive lights and shadows take participants' focus away from the pain and discomfort during training, while the images enhance the quality of the workouts.
The Holofit platform offers different training courses for different types of workouts. The MPT course is designed for comprehensive fitness training, while the MST offers strength training workouts to build muscles and the MMT trains flexibility and stability. The MET course offers various fat burning programs and the MCT is designed for extreme fat burning. The Holofit heart rate monitoring system, which can be used in all workout sessions, includes a heart rate band, remote control system and a module that collects data, which participants can access via their cell phones.
Holofit helps fitness club operators optimize their space utilization, reduce operational costs and offer their customers a continuously updated training platform with an outstanding interactive experience to improve adhesion, give participants a wider range of training options, and maintain and cultivate their interest in sports training.
Based in China, the Running Cat Physical Training Centre is Asia's first multimedia fitness studio that specializes in functional training. The centre combines multimedia technology, energizing music, interactive lights and a heart rate monitoring system to inspire participants and offer them an entertaining, highly effective training experience.
With training centres in Changning and Pudong in Shanghai, Running Cat offers a diverse range of programs for cardio workouts, strength training, weights and lifting, running, full-body workouts, circuit training, conditioning and functional training. The Holofit training environment was one of the innovative products presented at the Start-up Village at the 2017 ISPO Beijing, held in Beijing in February.