IHRSA 2017 Showcases Latest Technologies for Health and Fitness Clubs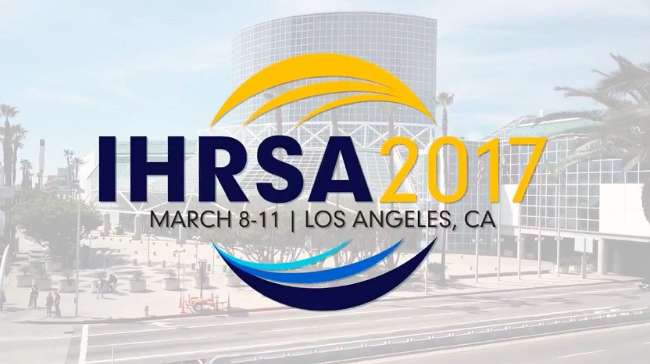 images: IHRSA, CSE ENTERTAINMENT, PULSE FITNESS, MYZONE, REAXING, TECHOGYM, STAGES FLIGHT
The 2017 IHRSA International Trade Show brought together more than 350 exhibitors and nearly 12,000 fitness and health club operators, personal trainers and other industry professionals looking for the latest equipment, technologies and business opportunities at the leading trade event for the global health club and fitness industry.
The 2017 IHRSA International Convention and Trade Show, held from March 8 to 11 at the Los Angeles Convention Center in Los Angeles, California once again provided visitors with a chance to try out some of the latest strength and cardio machines, test the most cutting-edge electronic devices, and learn about the sophisticated new technologies for club management and fitness classes.
The 2017 edition of the trade show welcomed more than 350 exhibitors and almost 12,000 industry professionals, including more than 7,400 trade show attendees, from 80 countries around the world for four days of seminars, presentations and networking events. The show hosted a variety of trade events, including the 8th Annual Women's Leadership Summit, sponsored by American Council on Exercise, the Industry Leadership Summit and Industry Leadership Council Meeting, and IGNITE!, a 75-minute event that featured a number of guest speakers who each had 5 minutes and 20 slides to present a concept and share their insights on a range of topics.
The exhibitors at IHRSA 2017 represented a diverse spectrum of the fitness and health industry, with many interactive solution developers presenting their unique new products and concepts. CSE Entertainment presented the iWall multiplayer motion gaming wall and delivered a great show, while in partnership with Pulse Fitness new fully immersive VR fitness equipment was officially launched. Wexer introduced a suite of new virtual classes produced by Move123.
Italian companies Technogym and Reaxing both showcased their innovative fitness equipment at the show. Technogym unveiled the new Skillrow indoor rowing solution, while Reaxing officially launched its award-winning concept and product range on the American market. Heart Zones, Inc. made its first voyage into the health club and fitness studio market at this year's event to introduce the Heart Zones System to some of the smaller clubs and studios in attendance. Other exhibitors of interactive fitness products included the Abs Company, eGym, Spivi, Polar, Concept2, Power Plate, Life Fitness, Nautilus, Gopher Performance, Interactive Fitness, Life Fitness, and JumpSport.
IHRSA 2017 cast a spotlight on several new partnerships. Precor has teamed up with sports technology developer EXOS to offer the latter's cutting-edge Energy System Development Technology on select Precor cardio machines. EXOS technology offers users a prescriptive workout plan that monitors and evaluates their progress, giving them a unique cardio experience and helping operators improve retention. Precor also presented the networked P82 and P62 consoles, which provide exercisers with entertainment and operators with data about the performance of their equipment.
EYE Fitness and Synergy Fitness announced a merger that will, as of April 1, 2017, position Australia's two leading brands to be able to offer the latest and most innovative commercial fitness and health equipment, as well as a unique proposition for aftercare and education, to clients in the Australasian market.
IHRSA 2017 also hosted more than a hundred education sessions led by some of the leading names in the global health club industry. The trade show featured four keynote speakers. Seth Mattison, Founder & Chief Movement Officer at FutureSight Labs, gave a presentation, sponsored by MyZone, on building relationships in the digital age. Author and leading brand expert Martin Lindstrom talked about the key role of small data in the future of the health club industry in a keynote sponsored by Technogym. Soraya Darabi, Co-Founder of Zady, highlighted the importance of keeping up with new technologies to create and maintain engagement with customers. Branding expert Johnny Earle offered detailed guidelines for getting any business or idea off the ground.
The trade show once again offered attendees plenty of opportunities to network and seek out new partnerships, meet face-to-face with manufacturers and score special IHRSA Trade Show prices through the "Making Connections" Orientation, Fast Track Continental Breakfasts, and other social events.
The IHRSA Trade Show is organized by the International Health, Racquet & Sportsclub Association, a leading not-for-profit association representing health and fitness clubs, spas, sports clubs, gyms and suppliers worldwide.
Registration is now open for IHRSA 2018, which will be held in San Diego, California from March 21 to 24, 2018.