InteractiveRacquetball Introduces New Dimension to Classic Sport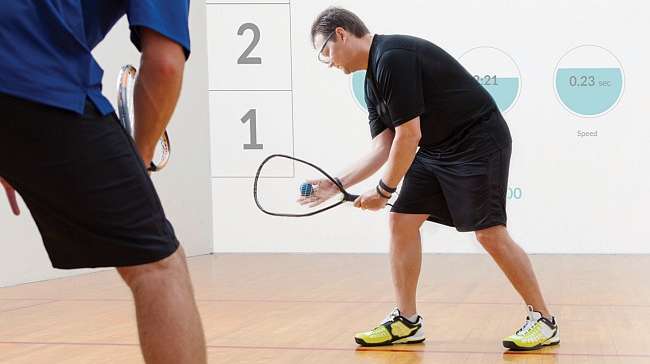 images: FUN WITH BALLS
interactiveRacquetball is a unique interactive solution developed by Fun with Balls that combines the popular classic game of racquetball with immersive gaming technologies to introduce the sport to the younger generation.
interactiveRacquetball, a new revolutionary product from the company behind interactiveSquash, is a solution developed for racquetball courts that uses cutting edge technologies to make the popular sport even more exciting. The system offers players fast results, helping them improve their racquetball skills through a range of immersive games played on an intelligent court. In addition to the fun, fast-paced games, the platform provides players with a number of features that bring racquetball right into the 21st century. Players can track their scores, time taken, hit/miss ratio and calorie expenditure while playing and getting fit with their friends.
interactiveRacquetball comes with 11 training modules and 10 interactive games. The games were designed specifically to appeal to the younger generation and to engage them in the classic sport, now transformed into an immersive interactive experience.
The system comes on the heels of interactiveSquash, another revolutionary product that combines projection graphics with computer game-style gameplay and digital coaching to challenge players to get into shape and spend more time on the courts. The platform uses sensors, software and immersive display technologies to reinvent squash training and introduce a new dimension to the classic game.
Introduced this spring, interactiveRacquetball is designed to increase court use, introduce the sport to the younger generation and grow its popularity on the global scale. The system is an excellent solution for existing racquetball courts, where it can draw new customers and offer a unique new experience to existing ones.
interactiveRacquetball was developed by Fun with Balls, a German company specializing in creating software and hardware for augmented reality sports technologies. Building on the success of its first product, interactiveSquash, the company continues to leverage an established sports network to keep developing innovative solutions for sports. It is currently working on a series of new interactive sports products that will be launched on the global market in the foreseeable future.