iWall Challenges Players with Interactive Motion Games
BY: FG Team
22 March 2017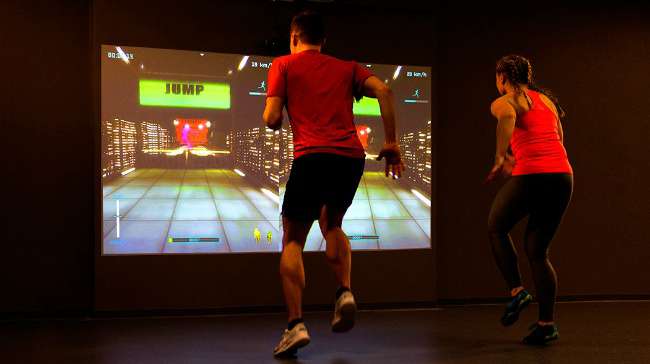 images: CSE ENTERTAINMENT
iWall is a new multiplayer motion gaming solution that challenges 1-2 players to control gameplay with their body movements and gestures.
iWall, a multiplayer gaming solution from the Finnish company CSE Entertainment, uses high quality graphics and engaging interactive games to challenge players to use their body to control gameplay. With the new solution, the Finnish developer of interactive solutions for fitness, sport and education has created a new active gaming product that can be used at schools, fitness centres and gyms, as well as in hotels, shopping malls, airports and activity and theme parks.
iWall is suitable for all age groups. It features 4K game graphics and highly immersive games that make it stand out from other interactive walls and similar gaming products. The wall was developed to increase users' motivation to exercise and be physically active while playing exciting interactive games and, like many similar active gaming solutions, it also improves users' balance, attention and mood after playing.
The wall comes with three preloaded games – Parkour, Shadow Master and Space Shooter.  Space Shooter tests the players' upper body endurance, while Shadow Master challenges their body control. 
Parkour challenges players to race across virtual skyscraper rooftops and find the best route to beat other players. Players can move left or right to avoid obstacles and they can crouch, jump or use zip lines to find the best possible route. Additionally, running in place increases the avatar's speed remarkably, which is the key factor in determining the winner.
Along with immersing players in virtual worlds, CSE Entertainment's solutions save all exercise data in the cloud to provide customers with insight into which games are the most popular, how much time users spend playing them, and how often the devices are used at their facilities. 
iWall was one of the company's innovative products recently presented at the 2017 IHRSA, held from March 8 to 11 in Los Angeles. It comes with a PC, motion sensor and two 65-inch screens or with an ultra short throw projector. All the hardware that users need is in the wall itself, which leaves the floor space usable for other activities. The wall takes up an area 3 by 3 metres in size and requires a wired or wireless internet connection. 
CSE Entertainment will officially release the new Shadow Master game at the 2017 FIBO trade show, which runs from April 6 to 9 in Cologne, Germany. Visitors can find iWall, as well as 4Active, at CSE Entertainment's stand B67 in Hall 6. Both products are nominated for the FIBO INNOVATION & TREND Award 2017. See the Shadow Master teaser video below.