ActiveLab Accelerator Unveils 12 Innovative Fitness and Health Start-ups
BY: FG Team
21 December 2016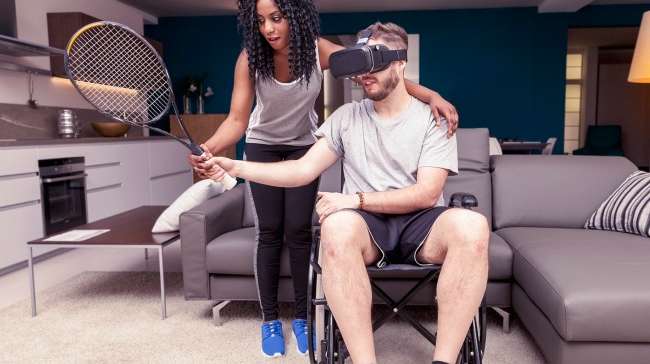 images: UKACTIVE, VRGO, STEPJOCKEY, EVERYMATCH, AMAVEN
ActiveLab, a new UK-based accelerator program, has unveiled 12 innovative fitness and health solutions designed to increase physical activity levels.
ActiveLab, a new accelerator program started by the not-for-profit body ukactive and founding partners AXA PPP and Tech City UK, has unveiled this year's group of ActiveLab disruptors, whose solutions are designed to revolutionize the way we move. The 12 start-ups were selected among more than 150 potential entrants and will be supported through a 12-week acceleration program. They are: imovesdance, Connected Fitness Labs, EveryMatch International, Gymetrix, Shapelog, Amaven, iPrescribe Exercise, LiveSmart, Stepjockey, VRGO Chair, Open Play and Silverfit.
The companies offer a varied range of solutions to keep users active and fit, provide them with tools to measure and track their performance, and build fitness-themed communities. Connected Fitness Labs is an app developed to help health club operators offer digital support to members, Gymetrix uses sensors to collect equipment usage data to optimize operators' purchasing decisions, and Open Play offers an online booking system and marketplace for sports facilities. EveryMatch is a mobile SAAS solution for building fitness member communities, while imovesdance offers online tools to engage kids in physical activity at school and at home.
Shapelog offers personalized strength workouts with automatic tracking and Amaven helps improve fundamental movement skills and sports skills through an online platform. iPrescribe Exercise is an app that offers an automated, yet personalized activity program to enable users to gradually reach their optimal activity level, while LiveSmart provides users with evidence-based programs for health assessment and improvement. VRGO Chair is an innovative motion controller for virtual reality in the shape of a chair that translates users' movement into virtual environments. Stepjockey was developed to enable employers make their offices more active using a smart gamification platform and Silverfit is designed to engage seniors in fun fitness sessions and help them stay healthy.
ActiveLab was established to identify the best and most innovative physical activity start-ups and to nurture and accelerate the growth of their unique products and services. The accelerator offers a number of benefits to new businesses. It provides them with expert knowledge through various workshops led by experts in the physical activity sector, gives them specialist one-to-one advice from mentors and partners, and brings them opportunities to network with other ukactive members and potential investors and partners.
ukactive is dedicated to providing services and facilitating partnerships to improve people's health and motivate them to be more active. Founded in 1991, it is the representative body for the UK's fitness, health and wellbeing sector, committed to promoting active lifestyles by supporting innovation, campaigning, providing research, sharing insights, and serving any organization that works to improve the health of the nation. Formerly known as the Fitness Industry Association, ukactive has almost 4,000 members. Its membership includes fitness club operators, trainers, local authority leisure centres, sports and training providers, equipment suppliers and charities.