Makoto Offers Versatile Tool for Youth Fitness
BY: FG Team
5 December 2015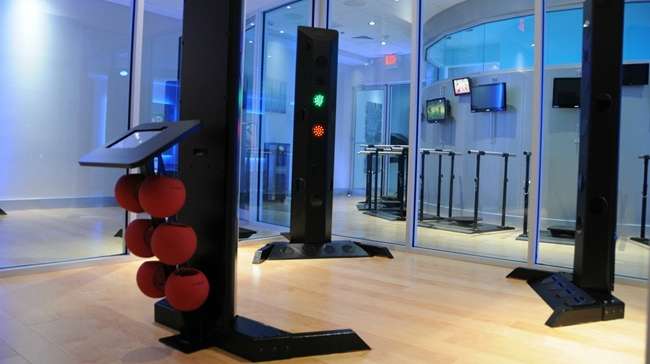 images: MAKOTO, EPIC BRAIN FITNESS
The Makoto Arena helps users reach their potential by playing a range of interactive games that activate and stimulate their physical and mental potential.
The Makoto Arena is a unique, versatile piece of interactive fitness equipment that delivers different types of training for different applications and age groups, all in a single machine. The system helps users reach their maximum potential for both physical and mental performance with a variety of solutions for youth fitness, physical performance, medical rehabilitation and senior fitness.
The Makoto Arena combines physical and cognitive fitness, using random combinations of lights and sounds arranged on three towers, to challenge users to move and react. The system offers a highly effective workout, helping children, athletes and seniors improve their fitness level and develop cognitive skills by playing different interactive games. The games combine cross-body movements with visual and auditory stimuli and they integrate insights from sensory integration therapy to improve players' overall physical and neurological performance.
The Arena offers a great cardio workout, but its main benefit is the improvement of the link between the brain and the body, which helps players improve their speed, reaction time, mental acuity, focus, and hand-eye coordination. A study conducted in 2005 showed that the system could significantly improve users' reaction time. To a less dramatic degree, study participants also showed improvements in the vertical leap and finger tapping test, the latter of which measures motor speed, reaction time and the coordination between the left and right hemispheres of the brain.
The versatility of the Arena makes it a popular tool among educators working with children with special needs and learning disabilities, including autism and ADHD. The system is well liked by kids because it puts them in the centre of attention and offers them a diverse selection of games and formats to choose from, allowing them to play solo against the machine or as part of a team.
All the games are active, fun, physically and mentally stimulating, highly addictive, and available in a number of variations. For instance, the Infinity Format, in which the game ends when the player misses a target, is designed to improve focus and concentration, while the reaction games are timed and challenge players to hit as many targets as they can in the allotted time, awarding points for both speed and accuracy.
Makoto USA specialises in developing solutions for fun, movement-based brain fitness for a wide range of markets, including sports, rehabilitation and youth fitness. The Makoto Arena is used at schools, recreation centres and youth fitness centres across the United States.
Watch the video below to see some of the options for sports performance and reaction training available with the system.