PRAMA Show Held at Pavigym Headquarters
BY: FG Team
1 October 2014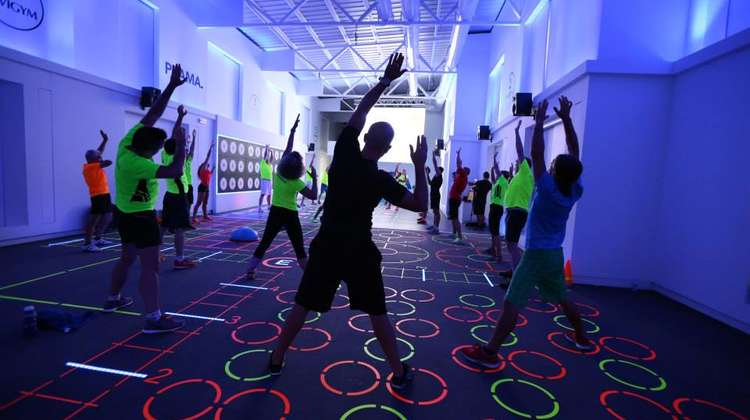 images: PAVIGYM FACEBOOK
Pavigym held another PRAMA show at the company's headquarters in Alicante, Spain, on September 25.
Pavigym presented its entire range of interactive floors, walls, lights and sounds in a new PRAMA show, hosted at the company's headquarters in Alicante, Spain on September 25. PRAMA shows are held to demonstrate the full potential of the company's unique concept, which keeps gym goers engaged and motivated while exercising and provides club owners with a new revenue stream. The concept is an innovative solution for large and small group training as well as personal training. Guests at the show can try out various PRAMA features for themselves to see how effective the concept is and to experience first hand the new fitness environment that it creates.
The shows not only showcase options for different types of workout programs, but also address the questions most club operators tend to ask before deciding on making a new investment, including how the concept can fit into an existing club, how to create a roll-out plan, and how to market the PRAMA experience to existing club members.
The PRAMA concept combines advanced fitness technology with light effects and sounds to deliver the ultimate fitness experience. It is a highly versatile system that offers an entirely new environment for gym goers and can be set up both as a micro-gym or a central workout area in a larger fitness facility. The concept is easy to use, very effective and known to attract new customers and retain existing ones.
PRAMA uses interactive, pressure-sensitive floors and walls to deliver a wide range of options for performance and functional training. With different lighting options, the system allows club operators and fitness trainers to create a unique atmosphere at the facility for different types of workouts. All the features are controlled at the touch of a button.
PRAMA integrates three key elements – Pavigym Energy+, Pavigym Mood, and Pavigym Synapse – to offer a world class solution that both makes training more efficient and optimises the space available at the facility. Energy+ is a group training solution that uses high intensity interval training to ensure gym goers get the most out of their workout. The concept combines interactive flooring with a regularly updated online support package to deliver a variety of classes throughout the year. The solution comes with everything a club owner needs to set up, market, launch, price, plan, train, and operate the interactive training zone. The workout programs are designed to train movements and the body-mind connection and can be used for both functional training and conditioning. They are suitable for members of all fitness levels.
Pavigym Mood uses lights and sounds to reinvent the atmosphere and breathe new life into any fitness facility. The system makes workouts more exciting and memorable for members, simultaneously motivating them and making them forget how hard they are really working out.
Pavigym Synapse is an app that helps operators and instructors control everything from their iPad. They can create exercise plans, playlists, special effects including laser beams and virtual explosions, and control the ambience lights and the duration of individual workouts and rest periods. The app also allows them to control the video display on the main screen, which can show exercise videos, promotional content, adverts, and anything in between.
Founded in 1963, Pavigym is a leading provider of sports equipment, flooring solutions, and products designed to enhance and reinvent the fitness experience. The company has sold products in more than 80 countries worldwide.