ProTee Golf Simulator Offers Unparalleled Experience of Golf Indoors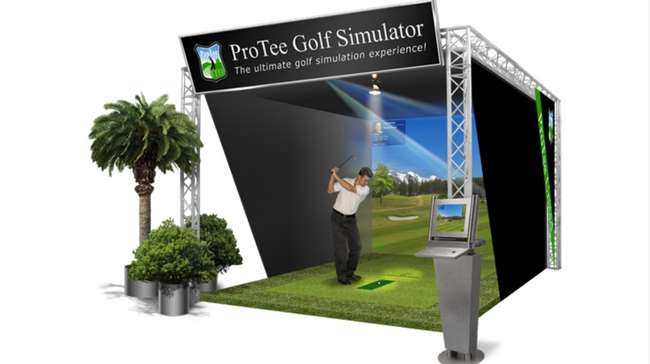 images: PROTEE UNITED
The ProTee Golf Simulator is a sophisticated 3D golf simulation system that allows users to design their own courses, practice their swing or play complete rounds of golf indoors.
ProTee United is a Dutch company that offers advanced, affordable golf simulator technology that allows users to experience 3D golf simulation and play complete rounds of golf indoors. Refined over 10 years of development, the ProTee Golf Simulator offers state-of-the-art technology that delivers realistic virtual golf courses and unparalleled simulation of ball flight trajectory. The virtual courses can be displayed on a computer screen or, for a more immersive experience, on a large screen set in front of the golfer. The system can be used at home, in offices, hotels and leisure facilities, retail environments, and indoor sports facilities. It can also be rented for special events, such as exhibitions, conventions, educational and sports events.
Suitable for beginners and professional golfers alike, the ProTee Golf Simulator allows players to use their own clubs, from driver to putter, and real balls to drive off the tee, pitch, chip, hit fairway shots and putt just as they would on a real golf course. The system uses high-speed optical sensors to track the ball and club head and a sensor mat that accurately detects club head speed, club face angle, ball speed and path, swing path, swing tempo, and sweet spot position, and also calculates launch angle and spin rates.
ProTee United offers optional putting sensors that track the finest details of the putt, offering golfers a highly realistic putting simulation. Two high-speed cameras detect the ball flight to offer a more accurate ball launch angle and ball direction.
The simulator comes with high resolution graphics that allow the player to move around the golf course in real time. Users can get multiple views of the course simultaneously and even do flyovers or follow the ball along its trajectory.
The system has a 3D course editor that allows users to design their own golf courses with as few or as many details as they like. Users can create an unlimited number of courses with different themes, terrain features, times of day, difficulty levels and numbers of holes, and then share them and play with their friends. Watch the video below to learn more about some of the advanced features available with the ProTee Golf Simulator and see the experience that it offers.