Racewood's Dressage Simulator Introduced to Dutch Equestrian Centre
BY: FG Team
12 November 2014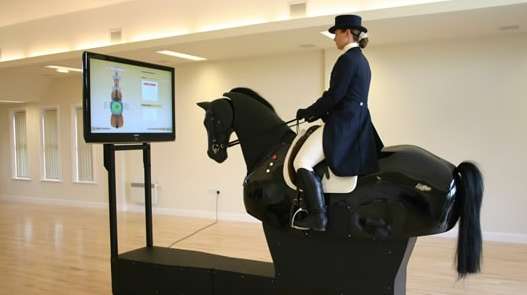 images: RUITER BALANCE CENTRUM, RACEWOOD
Racewood's Dressage Simulator is used as a valuable training tool at the Ruiter Balans Centrum in Veeningen in the Netherlands.
The Ruiter Balans Centrum, an equestrian centre in Veeningen, the Netherlands, is one of the many facilities using Racewood's Dressage Simulator in their daily clinics, offering mind and body balance training along with instructions on posture and breathing. The interactive training tool uses advanced software and sensors to simulate a lifelike horse which can perform different kinds of movements. It is the most realistic instructional tool in dressage, one used by amateur and professional riders around the world.
Racewood's Dressage Simulator is well suited to beginners and champion riders alike. The simulator provides training for basic arena work and can also perform advanced movements like pirouette, Piaffe, shoulder in and half pass. It is easy to use for both adult riders and children. It is fully interactive and allows riders to focus on their skills and improve their balance based on the visual feedback that they get in real time. The interactive screen shows the digital horse performing various movements and allows both the rider and trainer to learn a lot very quickly.
The Dressage Simulator helps riders improve their position and coordination, and it allows them to see and feel if they are doing something wrong. The simulator can also help riders improve their technique sufficiently to progress to more advanced levels.
Racewood's training tool can simulate four kinds of ride: instruction ride, free ride, test ride, and auto training ride. It has a wide range of benefits in training as it allows trainers to stay in close proximity to students and helps new riders learn the correct posture quickly and in a safe, controlled environment. The simulator also helps improve riders' general fitness level and can help them recover from injury through a series of safe steps.
To learn more about the benefits of training with the Dressage Simulator and see how it used at the Ruiter Balans Centrum, watch the video.