Scale-1 Portal Takes Immersive Arcade Gaming to a New Level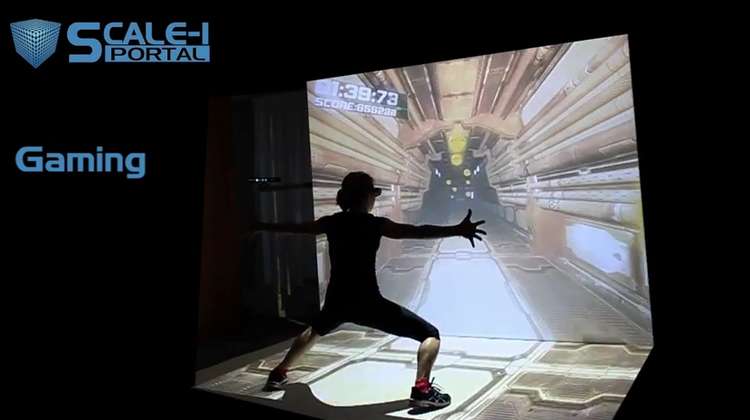 images: SCALE-1 PORTAL FACEBOOK
The Scale-1 Portal is an advanced virtual reality solution that uses highly immersive video content to engage users in a stimulating virtual experience.
The Scale-1 Portal is a sophisticated 3D virtual reality system designed for arcade gaming that also makes an excellent tool for a variety of other applications, including fitness, medical rehabilitation, research, and architecture, all at relatively low cost. The system is similar to CAVE simulators, virtual environments where content is projected on three or more walls of a room-sized cube. The Scale-1 Portal projects content on up to four screens, offering users a fully immersive 3D experience.
The system uses non-intrusive technology and full body motion tracking to deliver immersive virtual environments, allowing users to experience games up close and providing them with a viewpoint that matches their own position in real time. The proximity of the virtual items and 3D characters, as well as the ability to walk around the virtual world, allows users to experience an unprecedented level of emotions while playing different games and exploring virtual settings.
The Scale-1 Portal makes a very effective fitness tool because it provides users with a real scale view which, in turn, induces real scale moves. To play, users only need active shutter glasses and, for some games, a wireless game controller. All the devices used with the Scale-1 Portal were designed to be non-intrusive.
The Scale-1 Portal uses a single hardware for all the games. Users can download, test and buy the games right from the system's control screen. The arcade games available with the system – including a racing game and a robot shootout experience – were designed to put players right into the action and deliver an entirely new gaming experience to players.
The system is available in several different configurations, with either a mobile or static structure. It was designed by virtual reality specialists looking to offer an affordable VR solution that had previously been available only to research and development centres.
Watch the video to see the system at play.