Skillrow Indoor Rowing Solution Offers Cardio and Power Training to Boost Athletic Performance
BY: FG Team
17 March 2017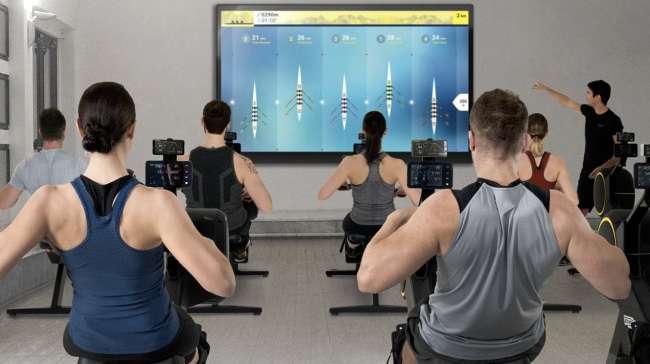 images: TECHNOGYM
Technogym launched Skillrow, a versatile solution for indoor rowing designed to enhance aerobic capacity, anaerobic power and neuromuscular abilities, at IHRSA 2017, held in Los Angeles in early March.
Technogym presented Skillrow, an indoor rowing solution that offers an unparalleled simulation of rowing on water, at IHRSA 2017, held in Los Angeles from March 8 to 11. Skillrow is the first fully connected rowing machine that offers both cardio and power training options through a number of fun, performance-oriented workouts. It is a new product in Technogym's Skill Line, designed for athletic performance training, and the only indoor rowing technology that offering training options to improve the user's aerobic capacity, neuromuscular abilities and anaerobic power.
Skillrow uses the gradual Aquafeel resistance to simulate the natural curve of the stroke in the water and make the movement fluid, while the company's Multidrive technology allows users to add more resistance to change the training mode from cardio to power training with a simple control mechanism.
Skillrow uses the Technogym Neuromuscular Training method, developed by the company's Scientific Department, to deliver high intensity workouts to improve the user's fitness level. Users can choose from 10 levels of cardio training and the training programs themselves use cadence variation to improve the user's athletic performance.
The Skillrow app offers a varied range of training programs and tools, including a virtual coach, and allows trainers to organize races of individual users or crews. The app also provides users with biofeedback in real time, helping them track and monitor their results, improve their performance and race against their friends or other users.
The Athletic Performance Circuit option challenges users to a complete high intensity circuit, while simultaneously allowing personal trainers to lead training sessions for individuals and small groups.
The Skillrowing Class, one of the workout options available with the Skillrow app, lets users row together as a crew and follow a set pace. It connects users and motivates them to stay on track with competitions that also help them achieve their personal fitness goals. Participants get individual feedback displayed on the screen, with different metrics – heart rate, calories, moves, heart rate max – shown in an intuitive colour code that makes it easy for them to follow their progress.
Learn more about Skillrow in the video below.
Related news:
Technogym Introduces First Treadmill Controlled by Google Glass