Spivi 365 Lets Gyms Run Cycling Classes All Day Long
BY: FG Team
22 January 2016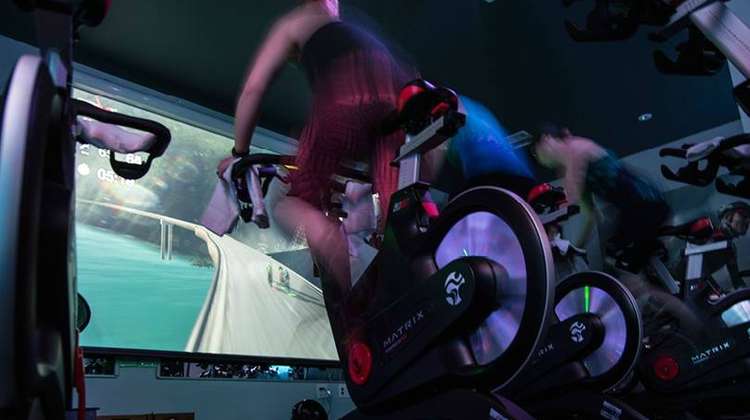 images: SPIVI, ASCENT FITNESS
Spivi 360 allows gyms, fitness clubs and indoor cycling studios to run instructor-led virtual indoor cycling classes for small groups throughout the day.
Spivi 360, an innovative indoor cycling solution from SpiviTech, is a 3D simulator system that allows gyms and fitness clubs to offer virtual cycling classes to their members around the clock. The system uses virtual instructors, who can run classes all day long and guide members through their cardio sessions as if they were physically in the room with them.
Spivi 360 offers the experience of a live outdoor group cycling session. The system simulates an outdoor riding experience using group activity data, allowing participants to see their avatars on the screen and track their personal goals. The training programs simulate steep inclines with low RPM, while high RPM creates the experience of a downhill sprint. The interactive scene on the screen features 3D tracks, dynamic scene lighting control, and different camera angles among other things to ensure that members stay engaged throughout their workout.
Spivi 360 classes are designed for small groups and scheduled to run automatically, with many workout programs readily available to gym goers. Gym staff can schedule the sessions by selecting the type of class they wish to run, the length of the session, and a virtual instructor to run it. Once scheduled, each class starts automatically. Members can sign up when the session begins or before they get to the gym, using an online scheduler.
During each session, Spivi monitors participants' performance, analyses the data, and displays it on the screen, integrated with real time 3D scenery. The participants are engaged by a real time group simulation and they get the data on both group and personal activity. Performance analysis is available to them in real time and after each session. The stats displayed include heart rate, distance, speed, cadence, rank, energy, power, and calories.
Spivi is compatible with ANT+ sensors, including heart rate straps, cadence sensors and power meters, which makes it easy for gym owners to maximise their existing equipment.
Watch the video below to see a 4-minute demo of a Spivi 360 cycling class.