Springfree Smart Trampoline Passes 30 Million Jumps
BY: FG Team
10 August 2017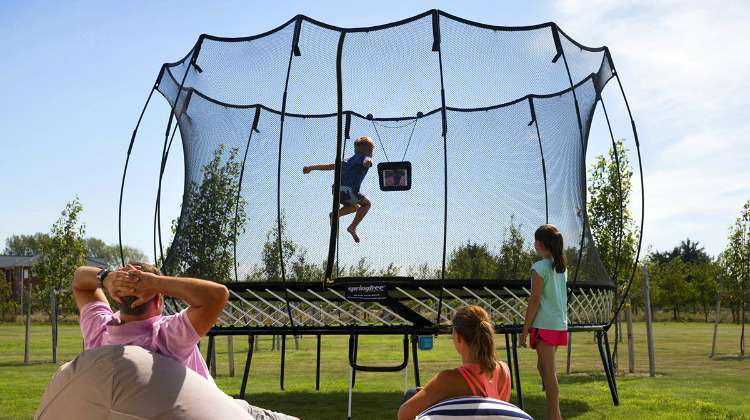 images: SPRINGFREE TRAMPOLINE
Springfree Trampoline has reached a record milestone, chalking up more than 30 million jumps on their Smart Trampolines.
Springfree Trampoline has passed a record milestone with more than 30 million jumps recorded on the company's Smart Trampolines. Launched last year, the Springfree Smart Trampoline has already reaped a number of innovation awards. Developed by Springfree's innovation team in New Zealand, the revolutionary product transforms a regular trampoline into an interactive fitness gaming platform using a mat with embedded sensors that track users' jump activity. The smart platform challenges jumpers to use their body movements to play games and score points.
The sensors in the mat track a range of parameters, including jump height and location, tally of jumps and calorie expenditure. They send the data to a tablet attached to the enclosure net. The tablet displays the performance stats in real time, while the platform uses the data in a suite of interactive, motion-controlled games and apps.
Trampolining is an extremely effective form of exercise, offering significant benefits to the musculoskeletal system without hurting the joints. A research conducted by NASA indicates that the activity is up to three times more effective than jogging. 20 minutes of intense trampolining can deliver the same aerobic benefits as a one-hour run.
The apps available with the Smart Trampoline offer a diverse range of options for jumpers. They include personal training apps, fitness trackers, fun games developed to engage kids in physical activity, and educational games, which challenge jumpers' minds as well as their bodies. The most popular app is the fitness app, developed in collaboration with the coach of the New Zealand Olympic Trampoline team.
The Smart Trampoline was developed with the idea of harnessing the appeal of technology to motivate people to be active. It is particularly well suited to children, as it captures their attention with high energy games and educational content, motivating them to jump more.
"We've seen how inactive people – kids particularly – have become with the rise of digital technology," says Jonathan Collins, Product Manager for the Smart Trampoline. "There's no question about the benefits of tech, but that's come at a cost. We saw a clear opportunity to match one of the most effective exercises available with a technology that enhances the joy of jumping."
The Springfree Trampoline is also an excellent solution for families, providing them with a range of interactive games that offer both an intense physical workout and a fun way to increase quality family time. The educational games available with the platform offer learning opportunities at home, teaching math, problem solving, language and trivia through interactive play.
"Thirty million jumps since launch is fantastic," adds Collins. "Our goal was to get people outside and active, and it's obviously working."
The Smart Trampoline is available globally.