Stages Flight Offers Immersive Video and Advanced Data Analysis for Indoor Cycling
BY: FG Team
12 April 2017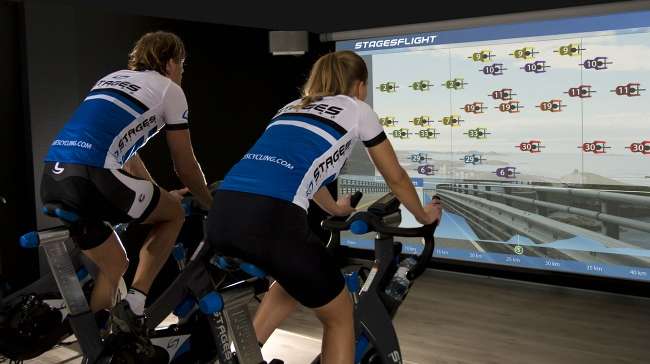 images: VISMOX
Stages Flight is a comprehensive indoor cycling platform that offers unparalleled measurement technology and immerses riders in virtual worlds and competition.
Stages Flight is an advanced data analysis tool developed to transform indoor cycling into an exciting, highly immersive experience. The web-based tool uses big screen display, mobile applications and an integrated spot reservation feature to offer fitness clubs and studios a wider range of options for group cycling classes.
Stages Flight is a powerful solution for both individual and group workouts. The functions available with the platform include GPS rides, Functional Threshold Power (FTP) testing, instructor cueing, video integration, custom intensity rides, and competition modes to make cycling classes more engaging and motivational. Cyclists can use their smartphone GPS, a power sensor and heart rate sensor to track all their activities, both indoors and outdoors, to get a complete record of their workouts. With Stages Flight, users can track their walks, runs, hikes and bike rides, among other activities, and see detailed information about speed, time and distance, as well as a calendar of all their training sessions. They can set goals, join challenges and use the technology to track their progress and share their activities, achievements and plans with their friends.
Stages Flight makes an excellent solution for gyms and indoor cycling studios, as it offers a number of features that help operators attract new members and retain existing ones. Suitable for both casual and experienced riders, the platform is designed to attract cyclists, including world-class athletes, indoors and offer them an equally satisfying experience as they would get outdoors. In indoor cycling classes, it allows users to see their power and heart rate data on a large screen in front of them and lets them book their bike in advance and get their favourite spot in the studio. All the users' training data is stored in their Stages Flight training diary.
Stages Flight was launched at IHRSA 2017 in Los Angeles and presented to European audiences at the 2017 FIBO, held in Cologne from April 6 to 9. Watch the video below to learn more about the technology and the advantages of using it at gyms, fitness clubs and indoor cycling studios.