STRIVR Enhances Sports Training with Immersive Virtual Reality
BY: FG Team
17 April 2017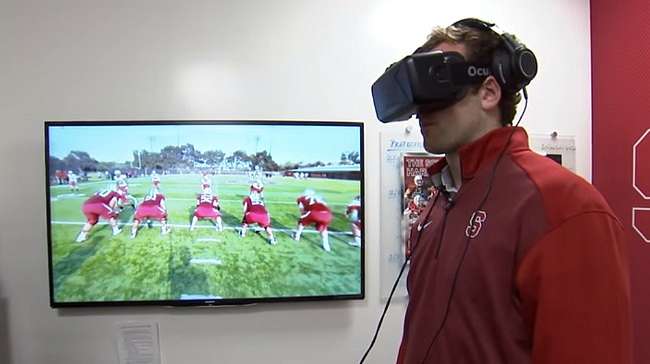 images: STRIVR LABS
The STRIVR training platform uses immersive VR to enhance athletic performance, accelerate employee training and deliver immersive brand experiences.
The STRIVR immersive VR training platform is an award-winning solution designed to improve performance and accelerate training in sports. Developed by STRIVR Lab, the platform uses virtual reality to transform learning and development in the areas of athletic performance and business skills.
In sports, STRIVR allows athletes to experience various situations as if they were actually there, using VR environments to simulate the exact vantage points of different plays to enhance and accelerate athletes' training regimen. The platform allows them to train anywhere as if they were on the court, field, ice or a different real-world training environment and enables them to do unlimited reps regardless of weather and other factors that limit their options in training. STRIVR uses real video instead of animation or computer generated images and creates customized experiences for individual players, enabling them to practice repetitions against their upcoming opponents and prepare for specific games. It is used by many professional and college basketball, hockey and football teams across the United States.
The platform can be used to improve reaction time, pattern recognition and decision making, skills that are also required in many areas outside sports. In corporate environments, STRIVR can be used to train employees faster in a number of different fields, including sales, safety, human resources and customer service. It delivers content through VR headsets like Samsung Gear VR or Oculus Rift, collects data and uses assessment tools to evaluate users' performance. The platform uses data to assess retention, which makes it a valuable tool for organizations looking for objective data to help them make key decisions about individual preparedness for critical situations. STRIVR offers unique, memorable experiences, which also makes it a powerful tool for promoting branded content, offering immersive VR experiences and storytelling for any business or marketing goal.
Founded in 2015, STRIVR Labs specializes in developing virtual reality technologies to improve users' performance and help them learn faster and more effectively. Based in Menlo Park, California, the company was born out the Virtual Human Interaction Lab at Stanford University and it leverages more than 20 years of experience in studying and designing VR applications to create useful and impactful experiences that deliver results.
The company's immersive VR training platform is used by Fortune 100 and other leading businesses, including Google, FOX Sports, ABC, Visa, Bank of America and Verizon Center, and some of the world's top professional sports teams, including the Chicago Bears, the Washington Wizards, the New York Jets, the New York Rangers, the Boston Red Sox, and the Detroit Pistons.