Tata-Punch Fitness Punching Pad Teaches Boxers Fighting Techniques Through Games
BY: FG Team
27 November 2017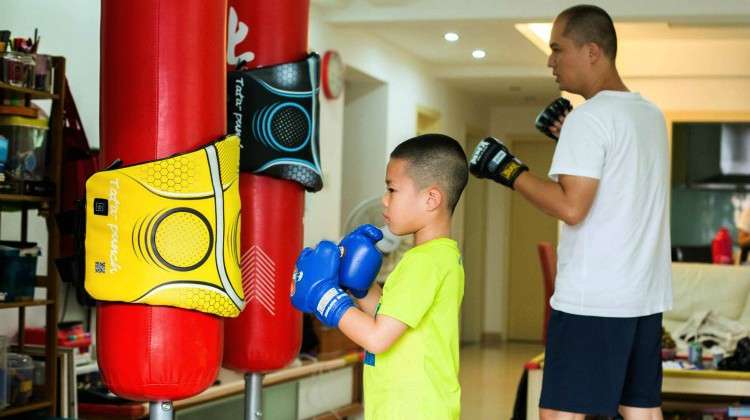 images: TATA-PUNCH
Tata-Punch is a smart fitness punching pad developed to make boxing training more effective and more inspiring.
Tata-Punch is a fitness punching pad developed to make boxing training more enjoyable and more effective. The interactive punching pad uses lights and voice technology to guide boxers through their training sessions while its integrated sensors analyze their each punch. It comes with a companion app for iOS and Android to add some fun and variety to the workouts, to teach boxers a range of fighting techniques and train their responses. The interactive workouts are designed to make training more entertaining and inspiring while simultaneously allowing boxers to learn new techniques, improve their punching skills and get in shape.
Tata-Punch tracks and analyses the user's punch speed, power, reaction time and calories burned. It displays the stats in a graph to allow users to visualize their progress, identify areas that need improvement, and provide them with a clearer insight into boxing kinetics.
The companion app introduces several different training modes to keep the workouts fresh and exciting. The personal or free mode offers various customization options that allow users to tailor their training to their individual needs, goals, workout intensity and schedule. The training mode delivers a series of workouts to improve the user's speed, strength and reaction time. The game mode creates a unique training experience, allowing two or more users to work out together or train to the rhythm of the music. Up to four punch pads can connect to a single app simultaneously to offer a competitive multiplayer mode for additional motivation and fun. The app also allows boxers to find partners to spar and train with and to share their photos and achievements.
Tata-Punch can be used in gyms, fitness clubs, boxing clubs, Taekwondo halls and at home. It is suitable for users of any age and skill level. The punching pad is currently available for preordering on Indiegogo and expected to start shipping in January 2018.
Watch the video below to see some of the training options available with it.