Interactive Training at iZone Driver Performance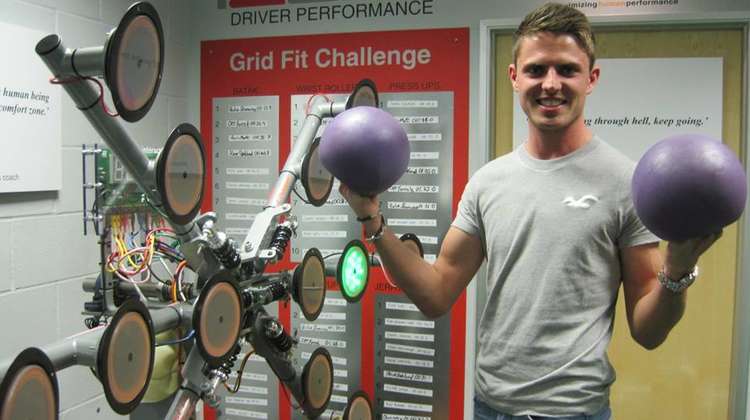 images: iZONE DRIVER PERFORMANCE, FACEBOOK
iZone Driver Performance at the Silverstone circuit uses a wide range of training tools to help drivers improve their skills and performance.
iZone Driver Performance at the Silverstone circuit in Northampton is the UK's leading driver training facility. Developed by triple World Touring Car Champion Andy Priaulx, the state of the art facility offers varied forms of driver training, mental conditioning, and psychometric testing for drivers looking to improve their performance and ensure that they are prepared for upcoming races and tests.
The iZone training facility has three advanced simulators and a motorsports gym where karters and drivers – including single seater, touring car, sports car, and F1 drivers – can train to optimise their skills. The race simulators are an excellent way for drivers to familiarise themselves with a new circuit and prepare themselves for it. The simulators used at iZone use eye tracking, heart rate monitoring and biometric/EEG feedback, allowing real-time monitoring of drivers' performance data, which is later used as a teaching tool.
The training programs at iZone are designed to help drivers at different stages of their careers develop their skills faster than their opponents, and stay ahead of the competition. Drivers can train for individual tests and races or sign up for comprehensive, year-long training packages.
iZone also offers driver training for novices, covering everything from initial skills acquisition to on-track instruction. The winter off-season training program is designed for long term skill acquisition, while test and race preparation programs include visual rehearsals and race simulations to help prepare drivers for a specific upcoming event.
The iZone Driver Performance centre offers a detailed practical assessment of drivers' strengths and weaknesses, both mental and technical, and creation of structured training programs to address these. The skill development program uses 60 training modules to boost drivers' performance from their current level to world class.
The CardioWall Pro-X is one of the interactive solutions used in driver training at iZone. The interactive wall designed by the UK-based fitness solution developer Rugged Interactive helps drivers improve their hand speed, peripheral vision, and hand-eye coordination. Designed for functional fitness, the CardioWall allows a lot of versatility in training and is also used to improve the drivers' overall fitness level. The wall adds a competitive element to training, which further motivates drivers and makes training sessions more interesting for them.
The CardioWall Pro-X uses 14 lightpads which are positioned just outside of the driver's reach. The wall requires the drivers to hit the lightpads as they light up, challenging their agility, flexibility, focus, coordination, balance, response time, and peripheral vision. Each arm of the CardioWall can be individually adjusted using the custom installed coil-over shock damper system. Designed for professional athletes, the device has data acquisition capability and delivers instant feedback using the FitMakr Pro data display, providing drivers with information on parameters like left and right bias, reaction time, and individual lightpad percentages. The data can be used to monitor the drivers' progress over time.
For more information please visit www.izoneperformance.com