Advanced Dynavision Training Seminar to Be Held at University of Cincinnati
BY: FG Team
13 October 2014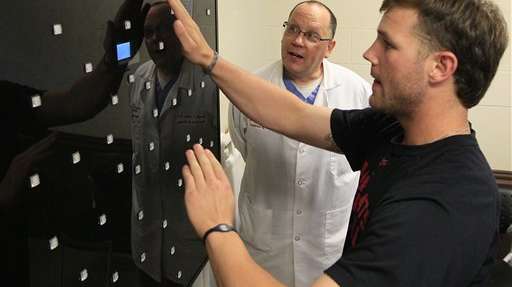 images: DYNAVISION, FACEBOOK ; BIGSTORY.AP.ORG
A training seminar on the Dynavision D2 and the use of new technologies in visual and neuro-cognitive training will be held at the University of Cincinnati on October 31.
The annual Advanced Dynavision Training (ADT) seminar, titled Advances in Visual-Motor and Neuro-Cognitive Training, will be held at the University of Cincinnati in Cincinnati, Ohio on Friday, October 31, with a networking event scheduled for Thursday, October 30, at the Kingsgate Marriott hotel. The 2014 ADT seminar will focus on various applications of the Dynavision D2 and the use of advanced technologies and equipment in sports training and rehabilitation to improve visual reaction and coordinate central and peripheral vision. The seminar will also cover some of the latest methods in improving concussion management through therapy and vision assessment.
The Dynavision D2 is a high performance tool that uses 64 light switches to engage the user's central vision and simultaneously challenge his peripheral vision. The light board is known to improve hand-eye coordination, visual reaction time, and peripheral awareness.
The training course is designed for Dynavision D2 users, athletic coaches, strength and conditioning trainers, physical and occupational therapists, training personnel, and prospective Dynavision clients. The one-day course will provide them with extensive operating knowledge of the Dynavision D2 and its possible applications in sports and therapy, as well as the ways in which the device can help them build their practice.
The sessions will cover topics including fall risk prevention in the elderly, common applications of the D2 in rehabilitation, pre-injury concussion testing and post-injury evaluation, the use of D2 in motor sports training, and the science of central and peripheral vision. Participants will also have a chance to learn about the impact of rising stress on neuro-cognitive processing, vision, human function, and performance.
The objective of the seminar is to show participants how the D2 can be used in vision therapy and concussion management, and also how visual and neuro-cognitive training can be integrated both in rehabilitation and high performance athletic programs. A recent study conducted at the University of Cincinnati showed that vision training with the Dynavision D2 improved field awareness in football players, which helped them avoid injuries that led to a concussion.
The ADT seminar will be held from 7:30am to 5pm on the 2nd floor of the Lindner Athletic Complex at the University of Cincinnati. Those interested in attending can register through Dynavision's website before September 25.
Related news:
Dynavision Effective in Vision Training and Concussion Management
Dynavision at the MLB Fan Experience