Bimeo Uses Virtual Games for Interactive, Evidence-Based Neurological Rehabilitation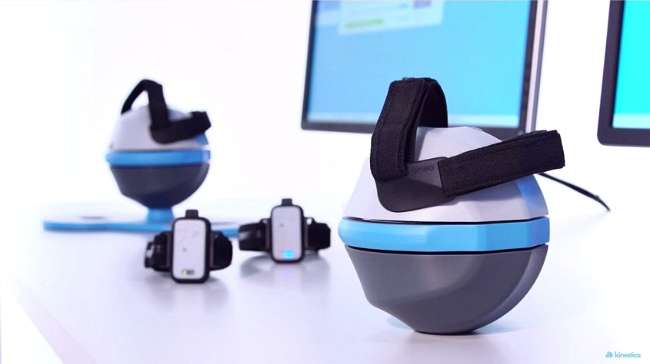 images: KINESTICA
Bimeo is an innovative sensor-based rehabilitation system that facilitates the recovery of patients with neurological and neuromotoric disorders.
Bimeo is an advanced rehabilitation system that combines virtual reality gaming with evidence-based rehabilitation methods to motivate neurological patients to perform daily life-type exercises and to make their recovery process shorter and more effective. Patients are encouraged to use the more affected arm to perform the therapeutic tasks and to use the less affected arm for support. The support is monitored and the therapy made more effective through automatic training task adaptation.
The system uses sensors to track patients as they perform the different exercises, including those developed specifically for objective motor function assessment. This allows clinicians to monitor patients' progress and tailor the rehabilitation programs and levels of difficulty to their individual needs and abilities. The system offers two types of therapeutic exercises. The first group challenges patients to perform isolated movements as accurately as they can, while the second requires more complex movements, similar to those required to perform everyday activities.
Bimeo offers a varied range of therapy modes with different therapeutic attachments. The bimanual mode, for instance, allows patients to move the affected arm with the help of the less affected arm and allows therapists to evaluate their bimanual coordination. The isolated arm joint mode focuses on individual arm joints (shoulder, elbow, wrist), while the separate wrist mode offers exercises tailored specifically for the wrist. All modes train patients to perform different tasks associated with everyday activities while enabling therapists to assess the range of motion in the affected arm. 
Bimeo was originally designed to assist with the rehabilitation of patients recovering after a stroke and those with neuromotoric disorders. However, during initial clinical trials, the system has also proven successful in the treatment of patients with multiple sclerosis, amyotropic lateral sclerosis (ALS), as well as people recovering from a traumatic brain injury, general traumatic injury, spinal cord injury and other impairments of the arm.  
Bimeo was developed by Kinestica, an award-winning company dedicated to developing technologies that facilitate the recovery of neuromotoric patients and improve the quality of their lives. The company was founded in 2012 by several members of the RoboLab, the Laboratory of Robotics at the Faculty of Electrical Engineering in Ljubljana, Slovenia, a facility with more than 40 years of experience in biomedical research and engineering.
Watch the video below to learn more about Bimeo.