2016 Games for Health Europe Conference Announced
BY: FG Team
11 August 2016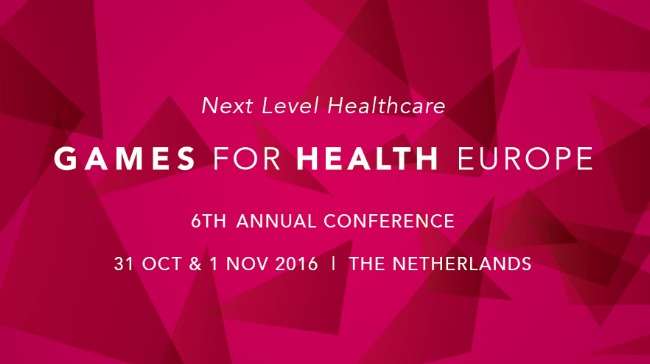 images: GAMES FOR HEALTH EUROPE
The 6th annual Games for Health Europe conference will be held in Utrecht on October 31 and November 1, 2016.
The 2016 Games for Health Europe conference, which will be held in Utrecht, the Netherlands, on October 31 and November 1, will focus on success stories and learning experiences drawn from implementing serious games and applications in different areas of healthcare. Dedicated to promoting innovation in the industry, the conference will cover a variety of topics related to different methods of generating value by replacing or improving existing elements of integrated care. Applied games and apps play a key role in the process as they offer a range of opportunities for healthcare providers to achieve this at a relatively small cost.
The Games for Health Europe conference serves as a global platform for healthcare providers, researchers, developers and other industry professionals to exchange experiences and ideas, to share their successes with others, and to debate the impact of game technologies on health, healthcare and policy. The health games and apps presented at the event will be those that can substitute or enhance different elements within existing care pathways at a lower or equal cost, while simultaneously offering better compliance, efficiency, safety, efficacy, adherence and quality of life.
The 2016 GFHEU conference will host more workshops and fewer lectures than previous editions, focusing primarily on action in a number of areas within healthcare. These include physical therapy, biofeedback, cognitive health, exergaming, rehabilitation, training, self-management, mental health, virtual reality, disease management, children's health, nutrition, healthy aging, health education, adherence, empowering games, epidemiology and health behaviour change.
In addition to gaining industry knowledge, participants will get an opportunity to network with leaders and stakeholders from key sectors and to generate new business leads. There are four ways for brands to participate in the conference. GFHEU members will participate in defining the content of the program and promote their brands in the expo space, while exhibitors will get a chance to present their products and services to a network of European healthcare professionals. Workshop sponsors will get a chance to contribute content to the conference by designing their own workshops with expert speakers and moderators, while other sponsors will back specific parts of the conference program.