China Med Returns to Beijing in March
BY: FG Team
17 February 2015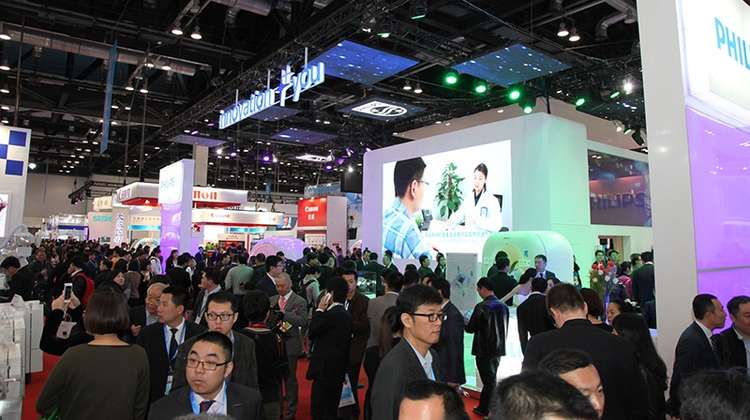 images: MEDICA.DE, CHINAMED.NET.CN
China Med 2015, the only China-based medical equipment trade show supported by MEDICA, will be held in Beijing from March 26 to 28.
China Med 2015, the 27th International Medical Instruments and Equipment Exhibition, will be held at the China National Convention Center (CNCC) in Beijing from March 26 to 28. China Med is China's leading event for the medical equipment and instruments industry and the country's only trade show for this segment supported by MEDICA, the largest international event for the medical industry.
China Med 2015 will welcome more than 500 exhibitors who will showcase the newest technological innovations for the healthcare industry, including medical software and IT systems, rehabilitation equipment, diagnostics and imaging equipment, hospital equipment, surgical and medical electronic instruments, and medical consumables.
The event will also host more than 30 symposiums and forums, with more than 300 international experts and scholars leading discussions on every aspect of the healthcare industry, from clinical technology and medical imaging to procurement.
China Med attendees will include buyer delegations and purchasing directors from around the country who will bid onsite and buy equipment on a large scale. Every year, the trade show attracts representatives from civil and military hospitals, clinics, medical universities, emergency centres, science and research institutes, rehabilitation and nursing centres, and the government. China Med 2014 set a new record with purchases worth about $310 million. The event hosted 545 exhibitors from 22 countries and 29,500 trade visitors from 40 countries.
China's medical technology market is one of the most dynamic economic sectors in the country and health expenditure is expected to reach 6 percent of the GDP this year. In the last couple of years, the market volume rose by about 30 percent, exceeding $21 billion. Export of medical devices from the United States to China has grown in double digits in recent years and one third of all the imports currently come from the U.S.
China Med 2015 is organised by Messe Düsseldorf (Shanghai), the subsidiary of the German MEDICA organiser Messe Düsseldorf, together with the Health Department of the People's Liberation Army General Logistics Department, the China World Trade Centre, and Huitong Xingye International Exhibition (Beijing).