HX360 Inaugural Event Held in Chicago
BY: FG Team
23 April 2015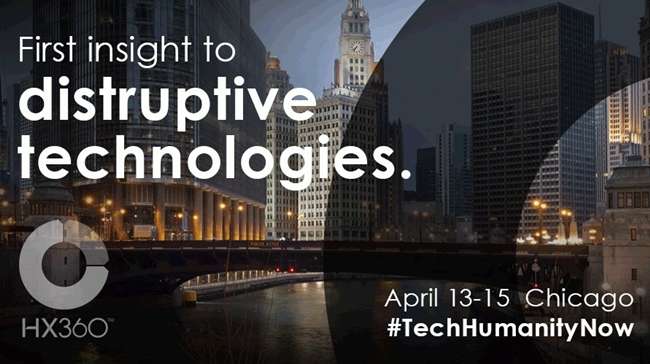 images: HX360
The inaugural HX360 event was held at McCormick Place in Chicago from April 13 to 15.
The inaugural HX360 event was held at the McCormick Place convention centre in Chicago, Illinois from April 13 to 15. The HX360 event is a new initiative launched by the Healthcare Information and Management Systems Society (HIMSS) and healthcare accelerator AVIA with the goal to leverage new technologies to change the existing health care delivery model. HIMSS is an international organisation that works to promote innovative IT solutions to improve outcomes for patients, while AVIA supports collaboration across health systems and works with providers to find and implement the most efficient new tech-enabled solutions. The 2015 HX360 event was co-located with the HIMSS Annual Conference and Exhibition, which ran from April 12 to 16.
HX360 was launched to support health system leaders as they tackle the challenge of creating quality clinical experiences for patients by adopting next generation technologies that improve outcomes and reduce costs. The event welcomed health industry executives, innovators and health IT professionals with the goal to advance the delivery of health care while simultaneously maintaining the fiscal health in health care.
The HX360 event provided industry leaders with a platform to discuss the challenges that providers commonly face, including patient retention, patient experience, provider efficiency, clinical workflow, care coordination and post acute care.
The exhibit floor featured a Startup Showcase, Accelerator Hub, Marketplace, Innovation Pavilion and a Games for Health interactive area. The HX360 Innovation Pavilion showcased health technology solutions from more than 250 companies, while Games for Health presented a range of possibilities with video games and gaming technologies in improving the delivery of care, both for patients and providers. The interactive technologies on display put a spotlight on the increasing role of video games and gamification in the healthcare industry.
HX360 also launched the HX360 Innovation Challenge to recognise leaders in digital health and health IT that are making the most significant contributions to improving patient experience. The winners of the 2015 Innovation Challenge were the San Francisco-based company Ginger.io and the Los Angeles-based WiserCare. Ginger.io provides a big data platform for behavioural health, while WiserCare specialises in helping patients and care providers make more informed and confident treatment choices.