MEDICA 2014 Coming in November
BY: FG Team
31 October 2014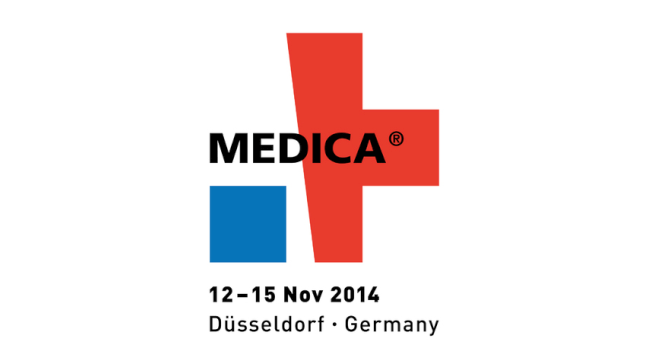 images: MEDICA.DE, MEDICATRADEFAIR, FACEBOOK
MEDICA 2014 will be held in Düsseldorf, Germany from November 12 to 15.
The 2014 edition of MEDICA, the world's leading trade show for the health and medical industry, will be held at Messe Düsseldorf in Düsseldorf, Germany from November 12 to 15. The annual trade fair draws more than 4,500 exhibitors and 130,000 professional visitors from around the world, making it the world's largest international market and information platform for the health industry. About 75 percent of exhibitors and 50 percent of the visitors come from abroad, which provides companies with strong opportunities to make new contacts and present their latest products to a broad international audience.
The programs integrated into the trade show include the MEDICA Tech Forum, the MEDICA Health IT Forum, and the MEDICA Education Conference, previously known as the MEDICA Congress. The Tech Forum at this year's MEDICA will cover the political, legal and economic framework conditions in high-tech medicine, while the Health IT Forum will focus on IT trends and telemedicine.
The German Society for Internal Medicine (DGIM) is a new partner for the MEDICA Education Conference. With a network of 23,000 members in the fields of health, science, and medicine, DGIM will help further develop the conference program. This year's MEDICA Education Conference will be held under the motto "Science Meets Medicine," thematically connecting the program with the new products and innovative technologies presented at the show. Telemedicine and robotics will be among the featured topics at the event.
DiMiMED, the conference for disaster and military medicine, which made its debut at last year's trade show, will return this November, as will the MEDICA Medicine + Sports Conference, which will cover a variety of topics related to prevention and treatment in sports medicine, as well as the use of activity trackers and wearables, and the standards these products have to comply with to be used by medical professionals.
The MEDICA Physio Conference, which will be introduced at this year's event, will host a series of talks focusing on treatment, with an emphasis on pain treatment and sports physiotherapy. The MEDICA ECON Forum will feature topics related to benefit assessment and funding innovation, which will be presented mainly from patients and cost bearers' point of view.
Exhibitors at MEDICA 2014 will present products across a wide range of categories, from electromedicine and diagnostic tools to physical therapy, information technology, and consumables. 
Related news: