MEDICA 2017 Coming in November
BY: FG Team
2 October 2017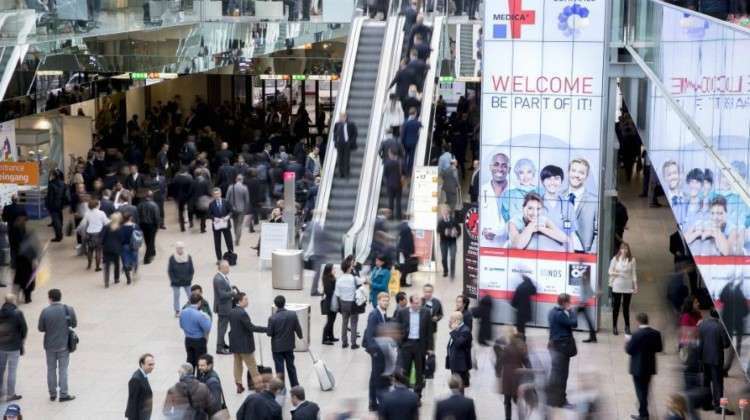 images: MEDICA
MEDICA 2017, the world's largest trade fair for the medical industry, will be held from November 13 to 16 in Düsseldorf, Germany.
MEDICA 2017, the leading international trade show for the medical industry, will present the latest industry trends and technologies at the Messe Düsseldorf in Düsseldorf, Germany from November 13 to 16, 2017. The annual trade fair will bring together innovators, developers, researchers, and medical and healthcare industry professionals for four days of knowledge sharing, networking and insights into the latest ideas and practices in the field. The event is expected to draw about 120,000 to 130,000 trade visitors, most of them from outside Germany.
MEDICA 2017 will welcome almost 6,000 exhibitors from 68 countries who will present products across a broad spectrum of areas. These include physical therapy, electro-medicine, information and communications technology, commodities and consumable articles, medical technology, hospital equipment, laboratory medicine and diagnostics.
The trade fair will host a number of medical forums with panel discussions and special exhibitions. The Connected Healthcare Forum will feature the latest solutions in networked and mobile healthcare, while the Health IT Forum will offer insights into the latest developments in artificial intelligence and other new technologies.
In its inaugural year, the MEDICA Start-Up Park will present the ideas of up to 40 start-ups, aiming to match innovative businesses with potential investors, partners and distributors. The MEDICA Labmed Forum, another new addition to the event, will explore innovation in the fields of laboratory medicine, microbiology, life sciences and medical technology, as well as the ways in which new ideas in these fields drive innovation in the entire medical sector.
MEDICA 2017 will also see the launch of the MEDICA Academy as part of the trade show's conference program. The event will provide a platform for two workshops that will cover topics related to surgical procedures, hygiene, imaging and medical innovations.
The MEDICA Medicine + Sports Conference will celebrate its 5th anniversary with a focus on the future of individualized sports and medicine in the areas of rehabilitation and prevention in professional and recreational sports.
The DiMiMED International Conference on Disaster and Military Medicine will address topics in the fields of traumatology, PTSD, infectious diseases and emergency medicine, while the MEDICA Physio Conference will focus on treatment in the areas of physical therapy, sports medicine and orthopedics.
The companies and institutions that will exhibit their innovative solutions and technologies at the event include BTE Technologies, BTS Bioengineering, EGZOTech, the Fraunhofer Institute, Gemon Technologies, h/p/cosmos sports & medical, Hocoma, HUR, InBody, Kinestica, MediTouch, Motekforce Link, Neofect, Neurostyle, Rehab-Robotics, Rehabtronics, RM Ingénierie, Samsung, Sensamove, Techno Concept, Tyromotion, Virtualware, and YouRehab.
The 2017 COMPAMED, the trade show for medical technology manufacturers and suppliers, will once again run parallel to MEDICA. The event will present the latest topics, trends, products and services in the medical and healthcare industry aiming to foster close collaborations between suppliers and their customers.