Fibod Balance Board and CR2-Haptic Robot Use Immersive Technologies for Rehabilitation Training
BY: FG Team
26 April 2017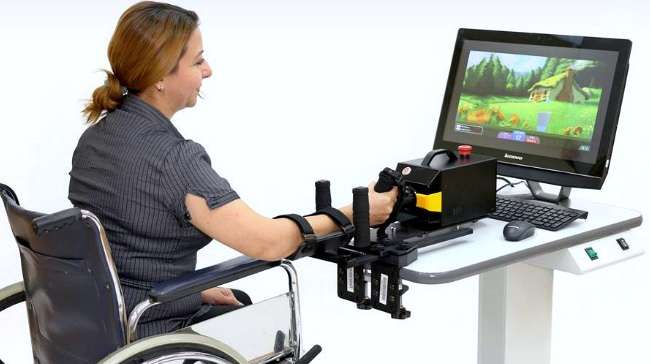 images: TECHCARE INNOVATION
The Fibod smart balance board and CR2-Haptic rehabilitation robot combine engaging interactive games and advanced assessment technologies to deliver a range of therapeutic exercises.
Techcare Innovation is one of the innovative companies that offer portable rehabilitation devices and interactive games to engage users in various therapeutic exercises. The company's solutions include the Fibod balance board and the CR2-Haptic rehabilitation robot.
Developed by a team of researchers, clinicians, and biomedical engineers, Fibod is a smart balance board that combines interactive virtual reality games with objective assessment programs to help users train and improve their balance skills and easily review their performance and progress. Users can adjust the level of difficulty to match their skills and play interactive games to improve their balance and body coordination, strengthen their core muscles and improve ankle flexibility. Balance is crucial for performing most daily tasks, which makes the board an excellent solution for active aging and fall prevention programs.
Fibod is wireless and has an easy plug-and-play setup, which offers more flexible training options for users at different fitness levels. The board is compact enough to allow training in a limited space.
CR2-Haptic is a rehabilitation robot developed to train forearm and wrist movement. The compact, portable device uses biofeedback and interactive games to engage the user in a series of exercises to improve movement range, coordination and strength. It can be programmed for different training strategies and offers an assessment program to evaluate hand movement, record patients' results and create reports. The robot can be used by stroke patients, the elderly and anyone who needs rehabilitation training for the hand.
CR2-Haptic offers three modes of training: passive, active-assisted and active. In the passive mode, the patient's hand is moved automatically within a limited range of movement. In the active-assisted mode, the robot helps the user complete the movement when necessary, while the active mode uses resistance to train the user's muscle strength. The robot comes with optional modular units that can be used to train a range of functional movements.
Techcare Innovation is a Malaysian technology company dedicated to developing smart portable fitness and rehabilitation devices to empower people and improve their quality of life through exercise. Based in Johor Bharu, the award-winning company provides effective, affordable solutions to people who need rehabilitation or assistance in their life and aims to become the leader in the segment of rehabilitative and assistive devices in South East Asia.