GroovTube Uses Games and Music to Train Breath Control and Oral Motor Skills
BY: FG Team
4 August 2017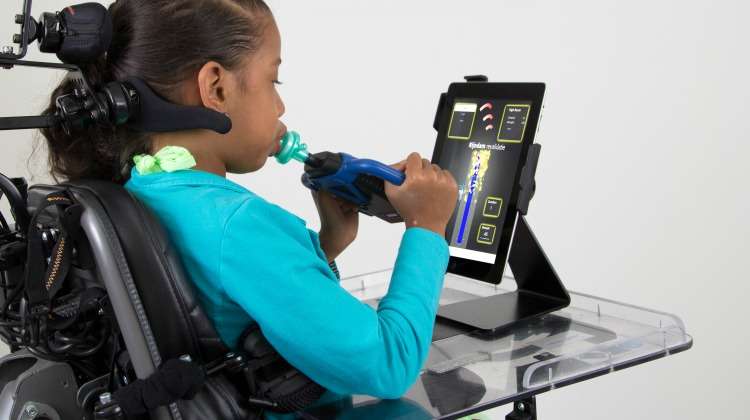 images: AUDIO RHOON
GroovTube is a unique breath detection device that uses interactive games and music to train oral motor skills and breath control.
GroovTube is a breath detection device developed specifically to improve users' oral motor skills and breath control. Combined with a companion app, the device helps visualize users' breathing and turn it into image effects in real time, making it easy to analyze users' oral motor skills. The device was designed for use by people with speech, breathing and oral motor disabilities, to make them aware of their breathing and train their respiratory muscles. It is used in respiratory, occupational, physical and speech therapy.
GroovTube consists of a wireless input device, available with several mouthpieces, that can be held or placed on a tripod. The mouthpieces have antibacterial filters and are interchangeable, which means that a single device can be used by several people.
GroovTube uses Bluetooth Smart to connect to the user's iPad and it works with several companion apps designed for different purposes. The breath controlled apps use games with different levels of difficulty to engage users in training. They can be used to improve breathing techniques by training the rhythm, visualizing the intensity and enhancing conscious inhaling and exhaling.
The GroovTube app gamifies respiratory training by detecting breathing strength and duration to distort an image chosen by the user. The Fairhammer app uses a thermometer-style graphic, measuring the user's inhaling or exhaling to move the 'mercury' up. The Billiard Breath app helps increase breathing awareness, challenging the user's breathing strength and agility to move virtual billiard balls around. The Breath Music app allows users to select an instrument and scale to create their own melodies, to speed up or slow down songs, or breathe in a specific rhythm to perform a song using GroovTube.
The games offer visual feedback to enhance the training, while the element of play makes the effort more rewarding and motivates users to keep training. Users' results are automatically stored after each session, allowing therapists to track their progress. Irma, a physiotherapist who has worked with GroovTube, says that kids like this feature, too. "The results of each training session are saved automatically," she says. "This makes it fun for children who need to keep practicing on a regular basis".
Kids also get a kick out of playing the games available with GroovTube. "I really enjoy making a selfie and then blowing myself up in this photo," says Quezaida (8). "The game GroovyDragon is my favourite!"
The fun factor is enormously helpful when working with children. "No other device has helped me more to challenge a young child to exhale as long as possible," says Maaike, a speech therapist.
GroovTube is suitable for all ages and can be used both at home and in a therapeutic setting. It helps with a wide range of disorders. Karin, a speech therapist, says, "I have used the GroovTube with a boy who has a major ataxia to get more control over his breath. He got feedback about his breath with the help of the GroovTube. He also learned to breathe out longer."
GroovTube was created by Audio Rhoon, a Dutch company specializing in developing Assistive Technology Devices for respiratory-, speech-, music-, occupational- and physiotherapy. The company's other products include the Magic Flute, an electronic wind instrument that can be played without the use of hands, allowing people with disabilities to create wonderful sounds and music, and the Quintet, a musical device developed specifically for teachers, therapists, mentors and parents that uses pre-programmed songs, a speaker and up to five switches to allow children and adults to create music together.
Watch the video below to see how GroovTube works.